Cultural relic doctors are increasingly demanded by the Chinese museums. The restoration of paintings or calligraphic works is a very complicated process, requiring more than 30 steps, such as demounting, underpinning, cleaning and colour restoration. All of these delicate processes have to be done by hand.

In 1996, Li Yuhu started his long and painstaking journey to restore the Western Han Dynasty Terracotta Army on display in Xianyang Museum, Shannxi Province.
Invited by Xianyang Museum, Li, a rising star in cultural relic restoration, began to restore the Terracotta Army with his research team. With a history of nearly 2,000 years, the terracotta figures had suffered cracking, warping, flaking and powderisation. To Li, they were like elderly patients and this doctor-patient relationship lasted over a decade.
Poets would equate cultural relics to "snapshots of history crystallised in amber". Li is no poet, but he still cherishes these cultural relics and regards them more important than his own life. To ensure the perfect restoration of the fragile Terracotta Army, Li would first test his treatments on imitation samples in his laboratory. Only when the treated samples are able to withstand accelerated and natural aging tests would Li and his team start using the treatment on the real Terracotta Army.
It should come as no surprise that an expert in cultural relic restoration may spend a decade observing a terracotta hair bun as small as an ink bottle cap. Li once performed a colour restoration and consolidation treatment to the hair bun of a terracotta warrior that had lost its original colour as a result of weathering. The bun was restored completely and remained stable 10 years later. It was only then that the restoration of the rest of the figure began. "Cultural relics cannot be replaced," said Li, "so we need a lot of patience and perseverance to develop new restoration techniques."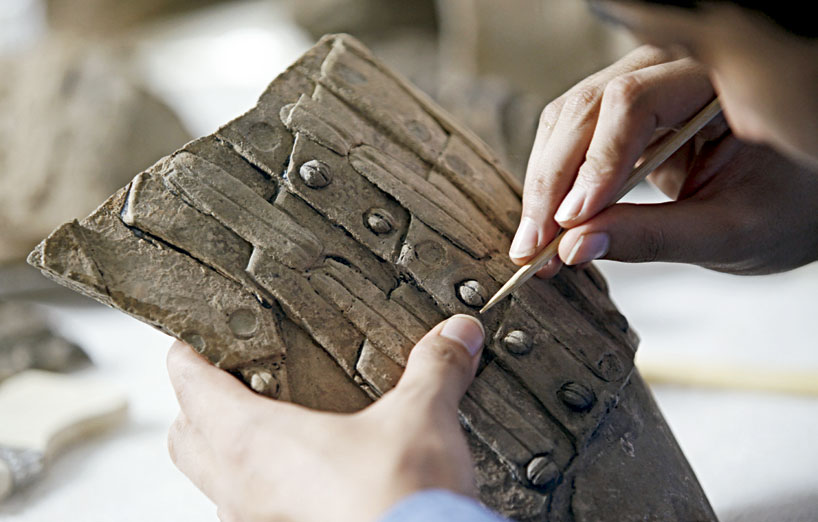 From cleaning with swabs, sticking down warped areas and consolidating powdered sections to binding together fragmented parts and applying colour restoration agents, the terracotta figures were restored one by one, until a colourful and majestic army of warriors emerged. When visitors go to Xianyang Museum, they are now able to appreciate the spectacular sight of the Terracotta Army as it was two thousand years ago.
There is no greater reward for a doctor than seeing the recovery of his patient. It is similar for cultural relic restorers; the most rewarding part of their work is to return relics to their past glory.
How can museums make their environment more conducive for the preservation of cultural relics? The colour on the terracotta figures had been well preserved in the highly-humid and oxygen-poor underground environment, but their beautiful patterns faded as soon as the figures were unearthed. Therefore, the question that lingered in Li's mind was whether cultural relics in museums could be preserved in an environment similar to that found in the soil.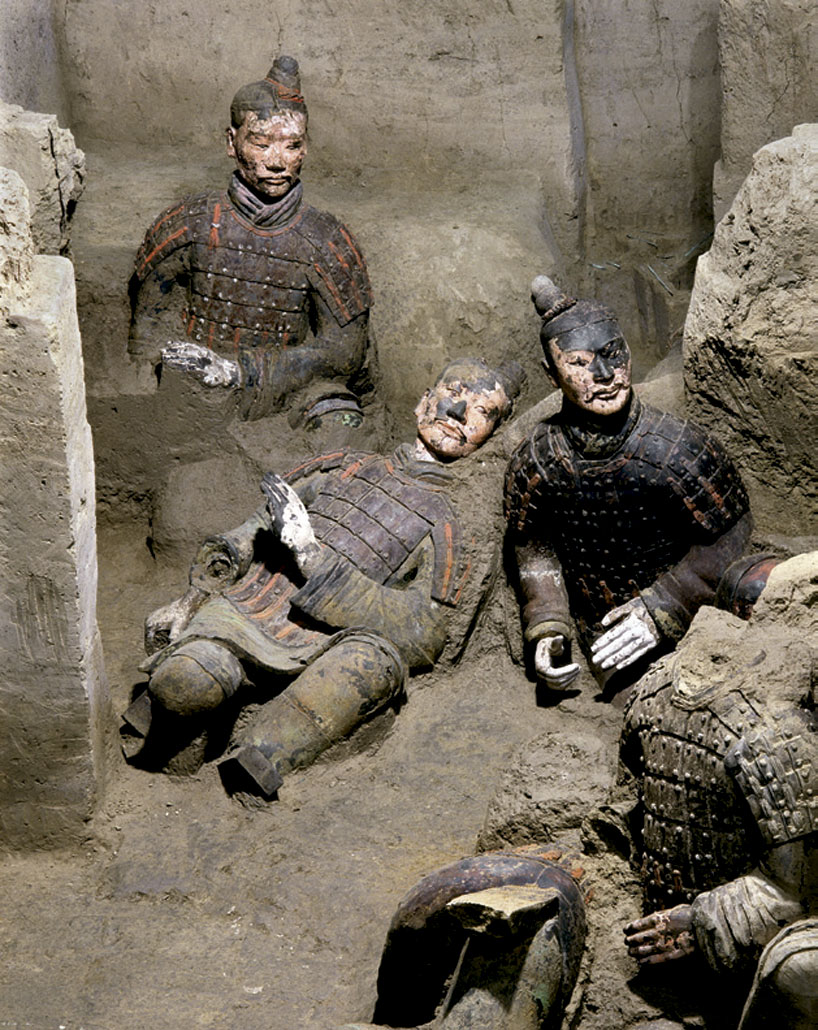 Through continuous experimentation, Li and his team have succeeded in designing an unpowered preservation and display device capable of maintaining high humidity and low oxygen. After special treatment, a raw lacquer painting that would have normally curled up into pieces in a couple of days or even a few minutes could be preserved for a long periods in this device. According to Li, "this is one of the least intrusive methods in cultural relic preservation."
In his laboratory, a painted pottery made during the Wang Mang period (AD 8-23) of the Western Han Dynasty had been preserved in such a device for 8 years and yet the colours on the pottery are still stable and there are no signs of warping or flaking.
"We cannot afford to fail in our work and we have to be responsible for every inch of the artefacts that we work on", Li said. "The intriguing thing about culture is that its beauty is part of everyone's identity." Li was born and raised in Shannxi Province, which is famous for its huge numbers of cultural relics. He has devoted all his life to restoring and preserving cultural relics, and splits his time among Xianyang Museum, Shannxi History Museum and other museums. So far, he has restored a number of national treasures such as painted potteries of the Spring and Autumn period, earthen ware of the Eastern Han Dynasty, coloured tomb figurines and frescos of the Tang Dynasty, as well as epigraphs of the Song Dynasty.
Now at the age of 57, what worries Li the most is how to bring up the next generation of restoration experts. The field of cultural relic restoration and preservation involves multiple disciplines such as history, art, physics and chemistry, and training in this field takes at least 10 years.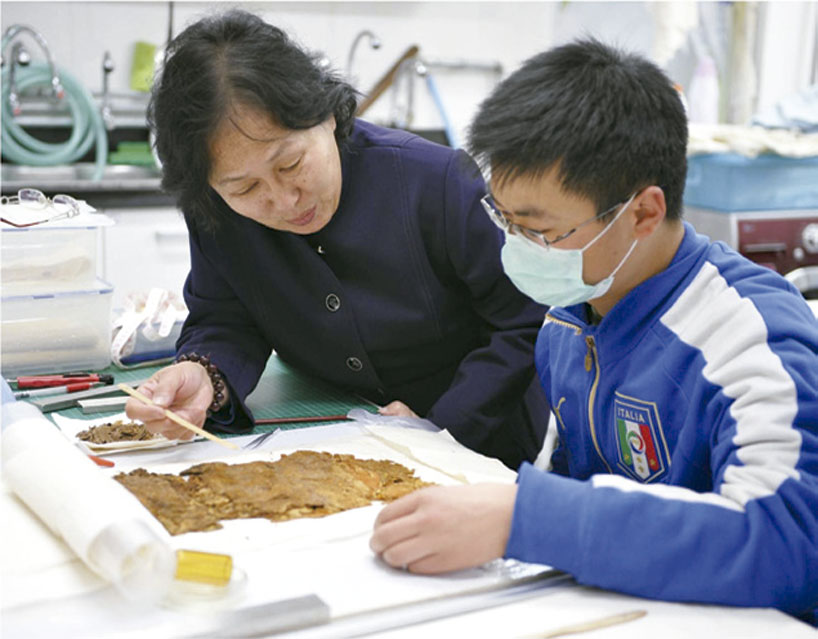 Sharing his concern is Wang Yarong, an expert in textile restoration, who is 74 years old this year. Wang is an advisor to Hunan Provincial Museum in Changsha and Capital Museum in Beijing. She has been longing to train more competent students in the same way her teacher, Mr. Shen Congwen, taught her, so that the ancient silk and satin relics lying in various museums across China can retain their fascinating lustre despite the passing of time.
Wang cannot even remember how many textile relics she has restored. "Too many," she said. She has the facts about her past work at her fingertips.
In 2004, Ganzhou Museum in Ganzhou, Jiangxi Province sought help from Wang because workers restoring the dagoba at Ciyun Temple in Ganzhou discovered a secret shrine containing a considerable amount of cultural relics in the interior wall on the fourth floor of the dagoba. Unfortunately, most of the paintings and scriptures were rotting away, with grey black mould stains and brown mud spots all over the place. Worse still was the fact that the paper and silk were dirty, full of holes and had fragmented into small pieces, while some had even powderised.
Along with nine other experts from Beijing's Capital Museum, Palace Museum and the National Museum of China, Wang first identified and then matched together the fragmented pieces, replaced the backing paper and inlaying material of the fragmented scrolls and then remounted the scrolls piece by piece. It took 6 years for Wang and her colleagues to successfully restore over 30 early Northern Song Dynasty silk and paper scrolls that were over a thousand years old.
According to Wang, the restoration of paintings or calligraphic works is a very complicated process, requiring more than 30 steps, such as demounting, underpinning, cleaning and colour restoration. All of these delicate processes have to be done by hand. Colour restoration or filling in is the most challenging job due to flaking or rotting, where sections of the works could be missing. Therefore, restorers not only have to be technological pioneers, but also well-educated artists. They must have a thorough understanding of the artistic style and background knowledge of the artwork they are restoring.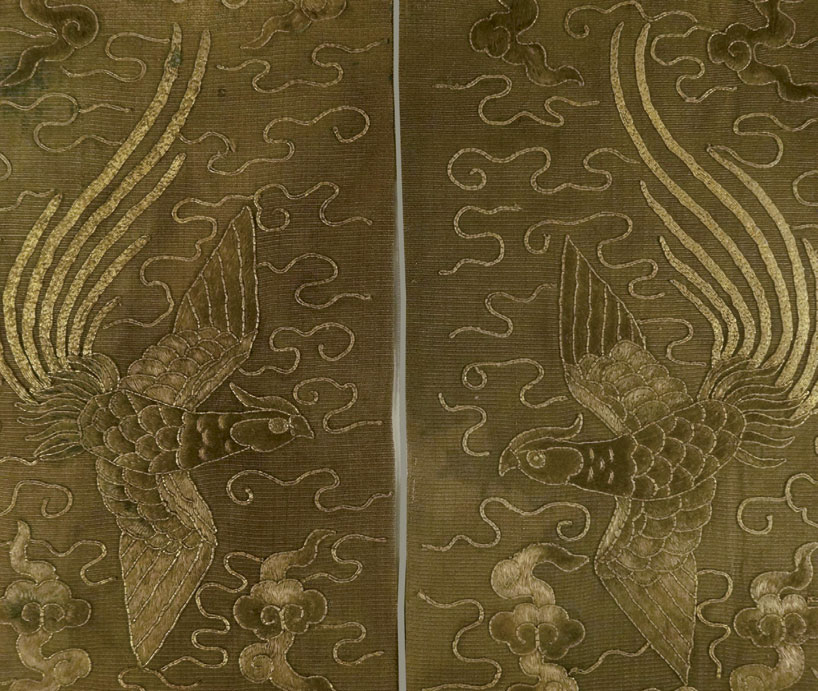 There are many cultural relic doctors like Li and Wang. Nowadays, in addition to the highly skilled experts, high-tech equipment is playing an increasingly important role in relic restoration, for instance in identifying aging restoration materials and the type and cause of the damage. However, with huge numbers of diverse relics waiting to be restored, there is a great need for restoration experts. For small and medium-sized museums lacking the necessary funds and expertise, the relics waiting to be restored have to be stowed away for long periods of time before they can be restored. Among the colossal amounts of cultural relics in Chinese museums, only a small portion of them has remained intact and kept their original beauty through the passing of time. Meanwhile large numbers of damaged historical relics newly unearthed each year are crying out for restoration.
Faced with this situation, Chinese museums pour large amounts of resources each year into the restoration of cultural relics. Take The Palace Museum as an example. In addition to regular restoration work on its collections, the institution has begun to promote the preservation of ancient architecture at the Forbidden City by starting to provide training classes on the construction of ancient buildings on the museum's northern part in the Haidian District of Beijing at the end of last year. Students would receive training in order to be able to read construction plans, learn about the characteristics of ancient architecture in the Forbidden City, and apply in practice officially recognised restoration techniques. The training of future cultural relic doctors will surely help to improve the preservation of our precious cultural heritage.
---
Published in Confucius Institute Magazine
Number 38. Volume III. Mayo 2015.
Comments