What are the differences between Chinese and overseas universities? This question sometimes puzzles foreign students in China. To answer it, we should compare them in terms of the following aspects.
By Li Jun ( Deputy Director of the Education Policy Unit at the University of Hong Kong )
Admissions
A college-entrance exam, called "gaokao" in Chinese, takes place nation-wide in China to select candidates for university admissions. The entire examination process is under strict regulation, and lacks flexibility. On the other hand, universities in other countries allow a variety of selection policies to reflect then- unique teaching principles and serve different types of students. For example, there are interviews, optional exams (such as the SAT in the US), community service, student self-evaluation, and so on.
Teaching strategy
Professors at Chinese universities highlight imparting systematic knowledge to the students, which involves memorizing and grasping a lot of things. They place more emphasis on knowledge from books, and spend most of the class time lecturing. There are few opportunities to apply this knowledge, and students are in a passive position. Comparatively speaking, European and American universities do not think too greatly of the impartation of knowledge. Instead they encourage students to explore on then- own and put what they have discovered or learned into practice. In this way, the initiative and enthusiasm of the students are deemed more important.
Examination and evaluation
Evaluation, which is closely related to teaching strategy, also varies in universities in China and other countries. Chinese universities place more weight on end-of-term assignments or final examinations in order to assess how much students have learned throughout the term. This is a "once-and-for-all" way of evaluation and some students have to bet on last-minute efforts. European and American universities also hold final exams, but they combine them with the evaluations of students' weekly performances, an "along-the-way" method of evaluation. Throughout the whole term there are exams and evaluations from time to time, so that students constantly focus on their studies and their attention is continuous.

Academic administration
Management concerning registration in China, including issues such admission, changing subjects, transferring to other colleges, resit and graduation, is rather rigid and there are few alternatives. For example, there are strict regulations and stipulations concerning changing subjects, which make it virtually impossible. Only under very unusual circumstances will students consider switching to another subject, which very often requires them to undergo a number of twists and turns. It's much easier for European and American university students to change subjects whenever their academic interests or plans for the future are changed, though there are also regulations.
Teachers and students
Interpersonal relationships are highly valued in Chinese society. Intimate and smooth relationships between teachers and students are also highly valued in campus and classroom culture. There is a well-known Chinese saying— "Once a person becomes your teacher, he will be like your father for the rest of your life', indicating a life-long commitment between teachers and students once this relation is established. This relationship can go well beyond teaching and being taught. Laws and regulations are highly valued in western society, which also permeates campus culture. Relationships between teachers and students in western universities are such that the two parties have signed a legally binding agreement. Unlike the intimate and stable relationship between Chinese teachers and their students, there is a general lack of interpersonal care and affection.
Classmates
Relationships among schoolmates are just like those between teachers and students. Chinese university students are assigned to classes and student dorms, which seldom change during their four-year university life. The value placed on neighbouring care helps them form stable and intimate relationships among themselves. After four years of campus life, the caring and loving affection among "brothers" (male schoolmates) and "sisters" (female schoolmates) often lasts a lifetime. On the contrary, western university students get together because of their common academic interests and personalities, thus their relationships are not as stable and lasting as those of the Chinese students.
Campus life
A Chinese university is a small tightly-knit community, with lecture buildings, libraries, gyms, and facilities for catering, shopping and health care all on the same campus. For the sake of sound management, most universities in China are isolated from society, with heavy gates and high walls separating them from the outside. University campuses in Europe and America are also conveniently designed, but catering and shopping facilities are provided by large companies. Therefore, their campus life is not as convenient and diversified as at a Chinese university. But European and American universities are closely connected to society; for example, religious organizations can be found on campus. Interestingly, without the enclosing walls, their campuses are not isolated from society, which signifies their more open social life.
---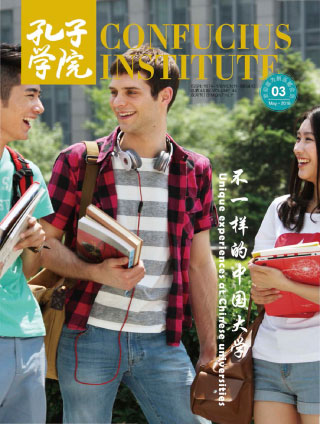 Published in Confucius Institute Magazine
Magazine 44. Volume 3. May 2016.
Comments