The tradition of writing family letters in China has been passed down from generation to generation for thousands of years. As a result, especially in the last 100 years, a large number of family letters have been collected. These documents provide details of the exchange of information and emotions among people and contain historical records of changes in society.
For most Chinese people, their memories of family letters are from two decades ago. In the past two decades, the rapid development of the Internet and mobile phones and the surge in web communications almost toppled the millennial tradition of family letters overnight, making it a cultural heritage in urgent need of protection. The heart-warming scenes associated with writing and receiving family letters are slowly fading.
As a bright moon hangs high in the sky and crickets sing among the grass, a traveller illuminated by lamplight writes back home: Dear mother and father, how are you…
The tradition of writing family letters has been passed down from generation to generation for thousands of years in China. As a result, especially in the last 100 years, a large number of family letters have been collected. These documents provide details of the exchange of information and emotions among people and contain historical records of changes in society. Some of the early family letters, especially those of famous people, are themselves cultural relics, but a lot of ordinary people's family letters which reflect social development and changes are also beginning to attract the attention of organisations that maintain archives and collect cultural relics. At the same time, as a means for information and emotional exchange, family letters in China are an integral part of people's lives and allow intergenerational exchange of culture. They reveal normal letter writing practices such as letter formats, etiquettes, terms of address, and methods of sending and delivering letters.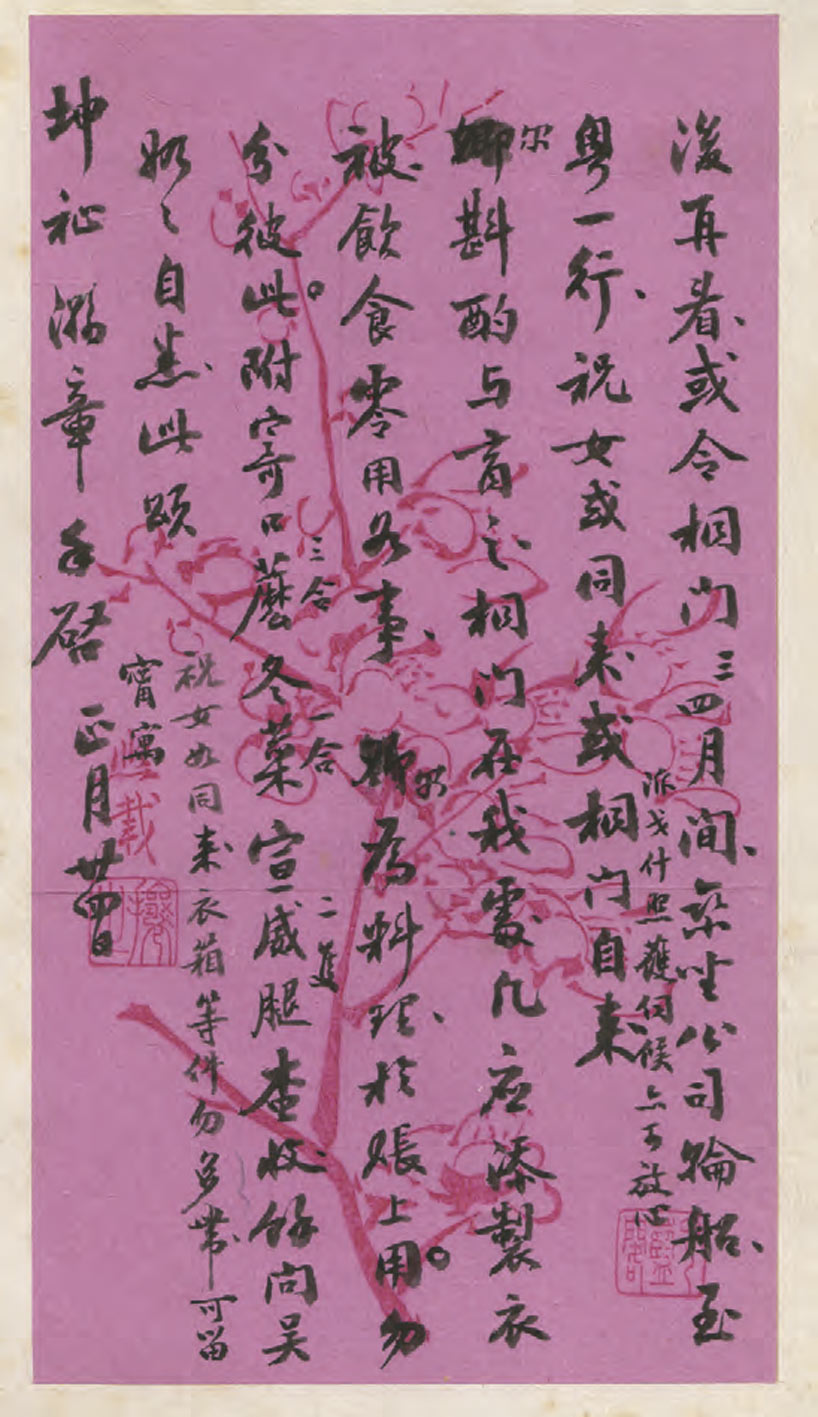 A family letter can provide a snapshot of the times, so a variety of family letters from different periods of time can provide faithful records of historical social conditions, enabling 35 later generations to understand history through new perspectives. Some family letters witnessing major events have significant historical value. Family letters with their diverse factual and emotional content serve as a fresh historical library for the research of modern Chinese history. Research into family letters can not only enrich records of major historical events with valuable details about the history of China, but also reveal vivid stories of individuals and families, and bring to life forgotten historical figures and details. Owing to the rich variety of their content, family letters in China can also provide new perspectives for those studying literature, archival science, sociology, psychology, ethics, communications, and so on.
A family letter contains relatively rigid protocols for using terms of address, letter format, salutations as well as the signature, which all directly reflect Chinese family and societal ethics. The emotions shown in the letter, such as those between father and son, man and wife, brothers and sisters, show the kind of family values that have been passed down through the generations. Letters from an elder would show love and contain edifying messages; letters to an elder would demonstrate virtues of filial respect; while letters among siblings or classmates would reveal young people's concern for one another, mutual encouragement and common progress. Traditional Chinese virtues for home and country can be felt in letters home from overseas Chinese demonstrating their hardworking and enterprising nature and the drive to constantly better themselves, and also in letters showing gratefulness, integrity and deep family ties from across the Taiwan Strait.
Through time, letters in China have become popular collector's items for intellectuals, who mostly collect emotionally sincere family letters, such as Wang Xizhi's Mid-Autumn Festival Letter (Zhongqiu Tie), Safety and Wellbeing Letter (Ping'an Tie) and Letter Written When the Sun Came Out after a Heavy Snow (Kuai Xue Shi Qing Tie), as well as letters such as Collections of Letters (Chidu Ji) by Su Shi and Mi Fu. The artistic value of family letters can be appreciated through the following three aspects.
Firstly, calligraphic value. To some extent, the history of Chinese family letters is the history of Chinese calligraphy. A family letter is a work of art with beautiful Chinese characters written on special letter paper, the perfect combination of calligraphy and paper. Compared with other works of calligraphy, the styles of calligraphy found in family letters are more free and natural, which is not only visually engaging but also affective, thus imbuing such calligraphy with life. Secondly, philatelic value. In a sense, the delivery of family letters led to the emergence of stamp collecting. The envelopes, postmarks and stamps that chart postal history have long been favourites among collectors, and those family letters that have been through the postal system at various time periods have received more attention. More and more stamp collectors are no longer only interested in envelopes, postcards and postmarks, but are beginning to be interested in the content of family letters in China. Thirdly, derivative value. Some family letters are written on Xuan letter paper bearing printed works of renowned painters or calligraphers, so they are in themselves exquisite artworks, such as Letter Paper of Shizhuzhai and Letter Paper from Peking. Some of the letter papers were stamped with seals associated with specific periods and institutions in addition to that of the author, which complements their content. Starting from the Ming and Qing dynasties, many officials and men of letters had their own custom-made envelopes and letter paper, which, together with their markedly different stamps, have become artefacts of high aesthetic value.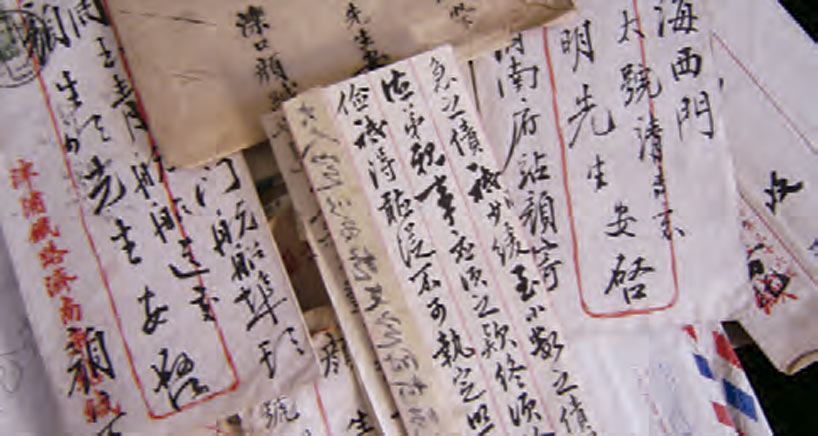 There is much more to these letters than meets the eye. Family letters constitute an important part of traditional Chinese culture, brimming with history and emotion. They are antiques and works of art, objects that can been seen and touched. When you immerse yourself in the letters, they will show you a whole new world.
The story of
100 postcards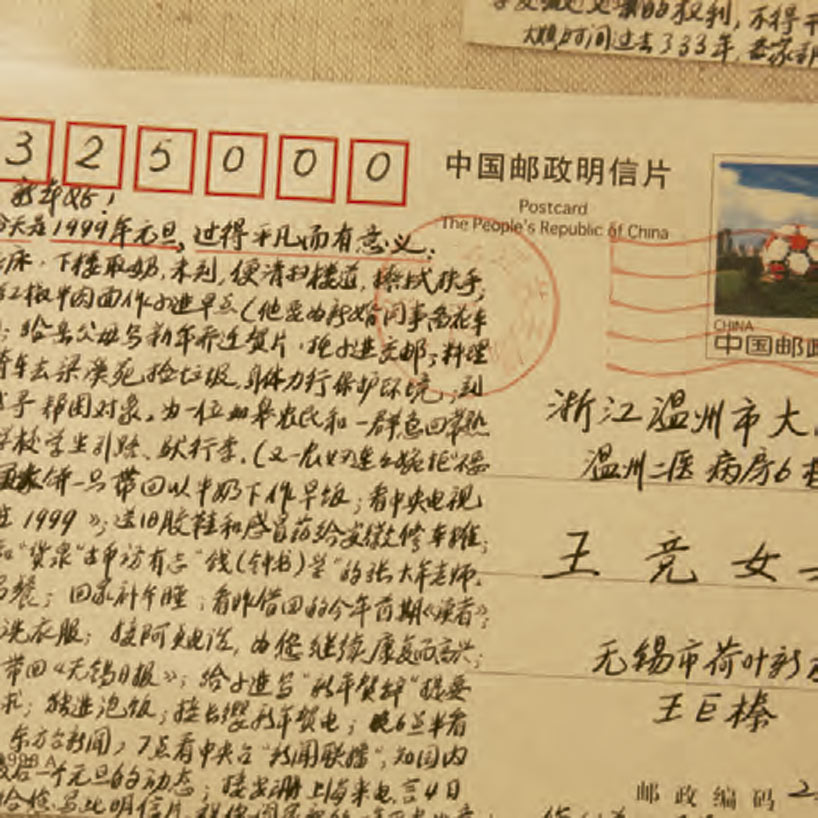 The postcards, like white feathers, flew southward over Lake Tai, as my eldest sister was recuperating. Those postcards contained more than my condolences, they also elicited emotions within myself and purified my soul. The words they contained served as a record of the love and kinship found within an ordinary family and have become a spiritual fortune for all of us. ——Wang Juzhen
My eldest sister was in her seventies and lived in Wenzhou, Zhejiang Province. She suffered from bone hyperplasia in her lumbar vertebra, and due to the lack of effective treatment over the years, she had to be confined to her bed. I was continuously worried about her.
One day in 1998, my brother-in-law told me they had sent my sister to the hospital in preparation for a spinal operation. All my family members had agreed to care for her in the hospital, but my brother-in-law advised me not to go to the hospital, telling me: "just stay in Wuxi and wait for news". When it was very late at night and all was quiet, some past memories came to mind, so I took out my old diaries and looked through them. My sister's care and affection for me became evident – She gave me a Children's Day present (a hardback diary) even though I had already started in high school. There were other instances of parental kindness and sibling affection, which aroused waves of emotions in my heart. The saying "One's elder sister is like one's mother" – adapted from the Chinese idiom "One's elder brother is like one's father" – came to my mind and steadily filled my heart. My parents had five children altogether and our family led a very harmonious life, but unfortunately, life is always full of ups and downs. For reasons beyond our control, my family experienced many difficulties: my father suffered paralysis and was bedridden for years, and my mother lost interest in life many a time. In those extremely hard times, my two elder sisters and their husbands tried their best to take care of the family and bring up their younger siblings. Due to this connection, I was very worried that something may happen to my eldest sister. Suddenly, an idea struck me: Why not write down my thoughts on postcards? Then I could send her a postcard every day, as if I was visiting her hospital bed every day with flowers in hand.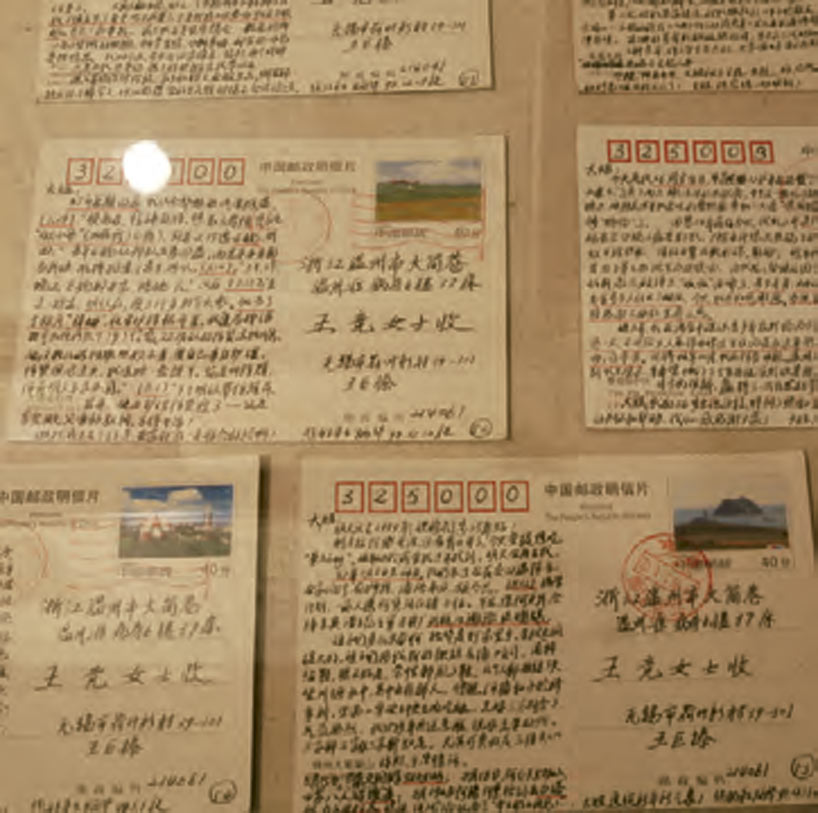 The next day, I bought several sets of prepaid scenic postcards. From 9 November onwards, I would hide myself in the study every night and look through piles of my diaries. After copying excerpts, I would structure,revise and finalize the texts, and then write the words on the left hand side of a postcard in miniscule Chinese characters. Sometimes, I would be fatigued from working during the day or suffering from illness, but whenever I thought of my sister's suffering, I would pull myself together very quickly. Although I had 90 volumes of diaries spanning 44 years containing an abundance of material and memories, it was still very difficult for me to select a new topic, find related information, and condensed the texts to around 400 characters each and every day. But I found pleasure in doing so.
Usually, I would finish a postcard late at night and let my son look it over (in hopes that he would learn from it). The next morning, he would help me mail the postcard as early as possible on his way to work. When it was the weekends, I would go to the post office myself by bike. Since I had promised my sister that I would go to see her every day, I knew how disappointed she would be if one of my postcards was late. The day before the Leonid meteor shower was due, I was so busy with publicising the event that I only got home the next day at dawn. Utterly exhausted, I suddenly realised that I had not prepared a postcard! In haste, I washed my face to refresh myself and then wrote down what I had done the day before. I had previously reminisced affectionately about my childhood on one of my postcards, in which I had told my sister about my student days: I was then extremely interested in science and determined to make a wireless radio, and I was fortunate enough to get the full support of my family. I remembered that my sister once gave my mother 6 yuan so that she could make a blue blouse for herself, but my mother knew I wanted a pair of earphones, so she just passed the money to me, without regard to her shabby clothes… The postcard from that day was the only one that was late, but I made up for it by writing two the next day.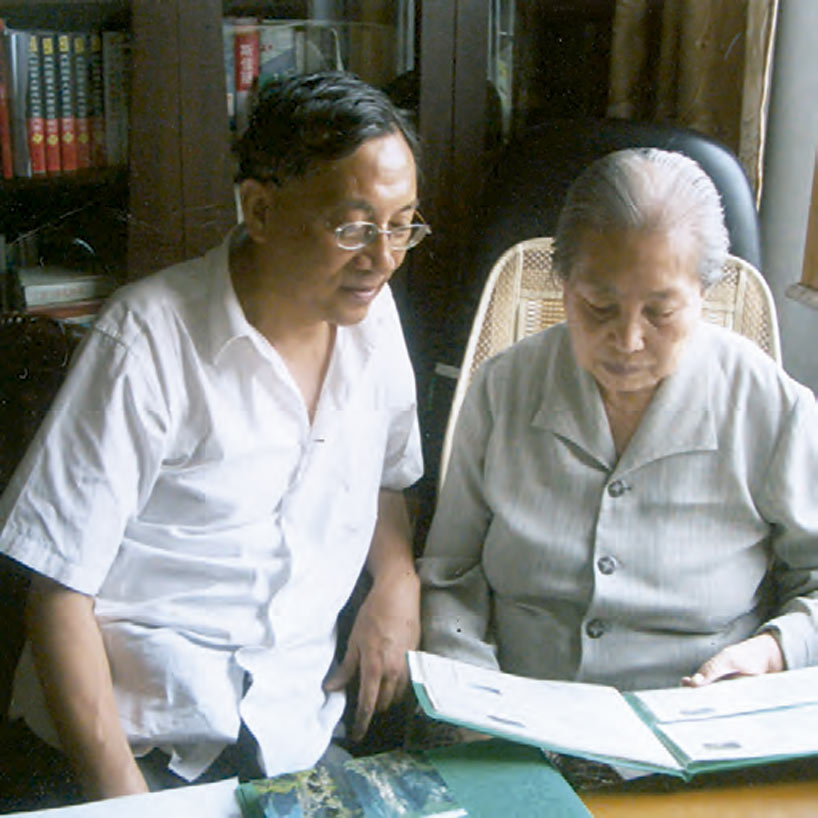 On 4 December, the day when my sister was undergoing her operation, I was giving a talk in Shanghai. That evening I received phone calls from my brother-in-law and sister-in-law telling me that the operation went well. They were deeply aware of my concern for my sister from my "one card a day" routine and tried to reassure me. After talking with them on the phone, I took out a postcard I had brought with me and wrote down my warmest regards to my sister. It is never easy for the elderly person to have an operation and my sister soon encountered postoperative complications, so I remained worried about her and continued to write my postcards every day.
My sister had been confined to bed for so long that she could not lie on her side or sit up, so she could only rely on someone to read the postcards to her. She thought it was too much trouble for me to write the postcards, and asked her husband several times to tell me "you don't have to write any more". But I could not stop because I thought the mere words "the postcard from Wuxi has arrived" must be a comfort to her. On 19 December, I received a letter from my younger sister that read: "All the postcards have been received. They were delivered by the nurses and they all know that our elder sister has a younger brother who writes to her every day on a postcard and think that you are an interesting person. One of them even asked when you will come to the hospital. She wanted to meet you."
On New Year's Day, my sister remained at the hospital and was not discharged as expected. With her in my thoughts, I decided not to pray for her but to go out and do good deeds instead. I picked up rubbish at Liangxiyuan, donated clothes to migrant workers from Anhui, and helped passengers carry luggage at the West Bus Station. I believed that when my sister learned of my deeds from my postcards, she, who had exerted great moral influence on me while I was a child, would understand my intentions and feel gratified by my actions, thereby helping her to recover sooner.
On 4 January, my sister finally returned home from the hospital. However, my memories came to me unabated, like a floodgate being opened. I thought to myself, my dearest sister, please allow me to continue writing to you from time to time.
During the Spring Festival, my whole family went down south to be with my sister. We were very happy to see that she had gotten much better and was full of vigour. Over the past half year, from getting up to getting out of bed, and most recently to going downstairs with assistance, she had almost fully recovered. When I collected my postcards, indexed and then put them into a stamp album, I was surprised to find that they numbered exactly 100!
Note: This essay was written in 1999 by Wang Juzhen, who was born in Wenzhou in 1943. He graduated from the Department of Physics at Zhejiang University and worked as a senior engineer. Mr. Wang is an avid collector and has devoted himself to the dissemination and popularization of popular science among teenagers, and received acclaim as a "gardener of popular science". In July 2005, he donated his 100 postcards to the Programme for Rescuing Family Letters. His 100 postcards were chosen to feature in two exhibitions: "Revealing the Forgotten Memories: An exhibition of Chinese handwritten family letters" and "Beauty of Correspondence: An exhibition of Chinese traditional family letters."
---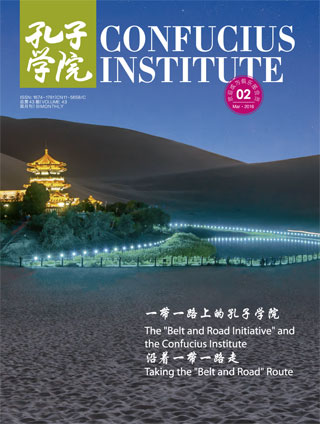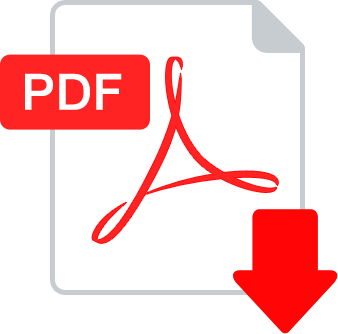 Published in Confucius Institute Magazine
Magazine 43. Volume 2. March 2016.
View the PDF print edition
Comments