Nowadays entrepreneurship is no longer a privilege of the chosen few. Start-up companies can be created at the grassroots level, and you can start whatever business you like. This situation has attracted many foreigners 'makers' to China.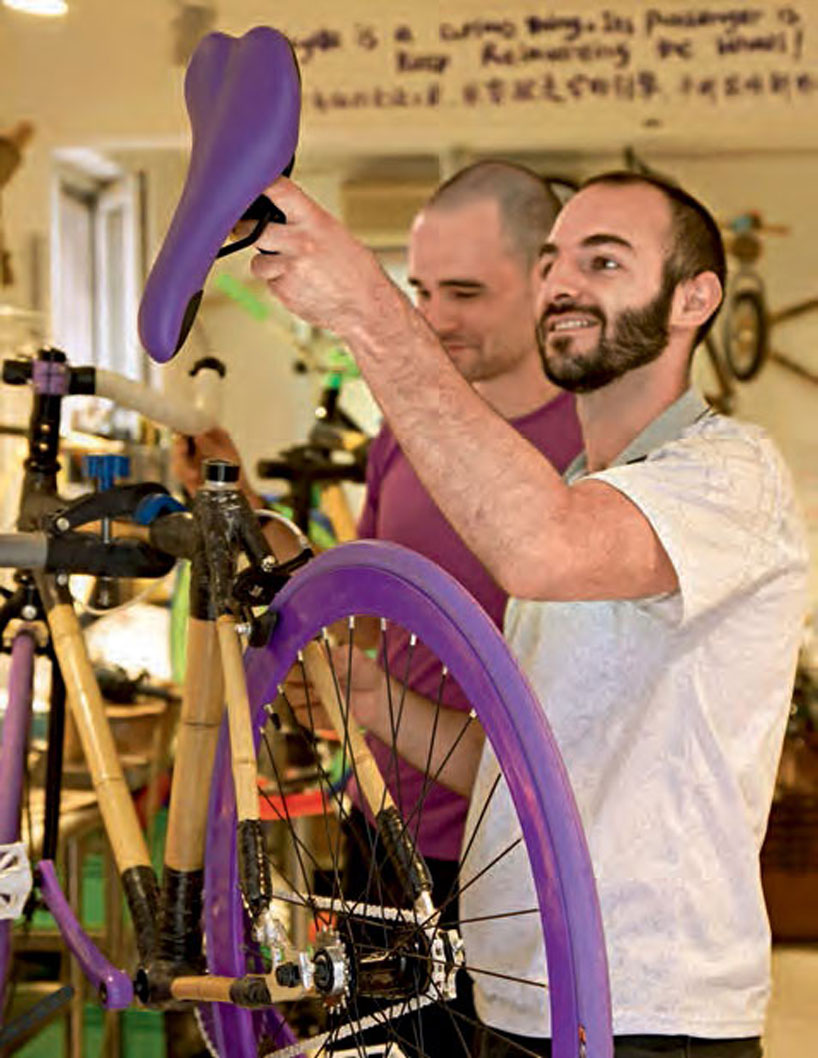 2 June 2015 was the last day of the first Shenzhen International Makers' Week, which witnessed a gathering of experienced makers from the US, Argentina, Spain, Japan, Russia and the Netherlands. By taking part in themed forums, interactive maker exhibits, maker workshops and competitions, they exchanged ideas on new ways of starting a business. Nowadays entrepreneurship is no longer a privilege of the chosen few. Start-up companies can be created at the grassroots level, and you can start whatever business you like. This situation has attracted many interested people, including the foreigners who have gathered here. These passionate modem Marco Polos who have started their businesses in China have not only enjoyed financial success but also gained experiences and qualities that are equally valuable, cultural immersion, progressive thinking, dogged persistence, and other challenges of success.
Making your own bamboo bike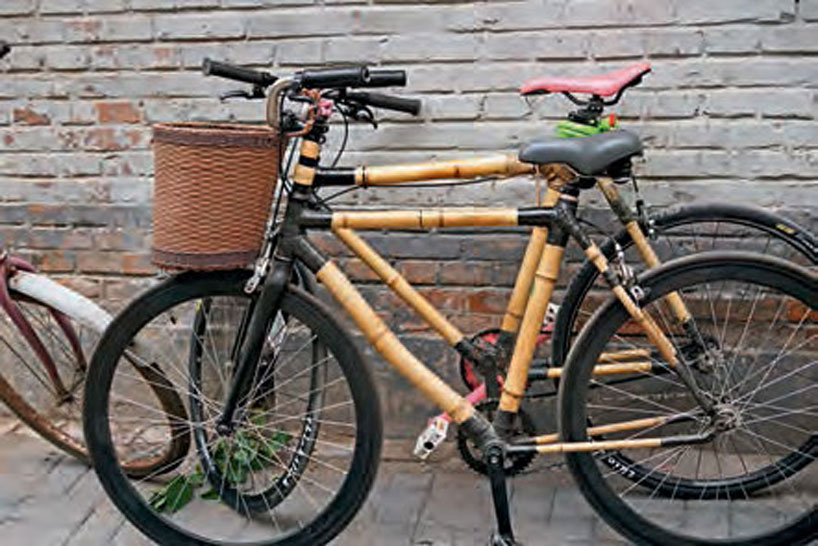 Bikes used by China's older generation, such as well known brands like Flying Pigeon and Forever, have now been left behind. For young people, high speed and good looks are the new standards for their ideal bike. You might have passed by Langjia Hutong in Dongcheng District of Beijing many times without noticing a small bike shop there. All of their bikes have been refitted with bamboo. The owner of this 25 square metre shop is David Wang, a young man from the US, majoring in Asia Studies. David had learned Chinese at Chang'an University, Xi'an. and is now able to speak fluent Mandarin Chinese.
David has spent six years studying the social and cultural trends of China's youth and one day an idea struck him — why not refit disused old bikes and turn them into new customised bikes? He began to look at bicycle frame design. then ordered materials and rented a property. Finally, David's workshop opened in April 2014. He recommends that bikes be refitted with a special kind of bamboo frame using Lizhu bamboo from Guangdong, which makes the frame not only robust but also very light.
The hinges are made with carbon fibre and glass fibre which are also very sturdy. The workshop runs a two-day course for no more than five trainees at a time, charging 2,000 RMB per person. The trainees are taught how to choose bamboo, do the sanding and polishing, assemble a bike and other parts of the refurbishment process. "Unexpectedly, most of our trainees are girls and many are high school students. They love to make things by themselves," said David.
David promoted his enterprise through a wide array of media such as Weibo, websites, WeChat, Facebook and by word of mouth among mends. So far his workshop has produced 150 bamboo bikes and established a community of more than 200 people. Apart from learning how to make things with their own hands, the trainees can also take part in many fun activities such as photography competitions on the shop website, mountain bike rides at weekends, designing bamboo balance bikes for children, and taking photos of life in Beijing's hutong.
This August, David is moving back to the US to study for a master's degree because he wants to learn more about management. His workshop will be taken over by his business partner Claudio (Xiao Yun) from South Africa. "I feel completely at ease with my leaving since I have successfully engaged people's interest and there are people who will continue to provide professional training." David believes in community values and he hopes that his venture will help more people take the initiative to fulfil their own dreams and, by bringing together people who share common interests, they will keep in touch and help each other in the future.
Choosing the best English name
Do you have an English name? If so, do you know its meaning and do you know what a laowai 'foreigner' thinks of your name? Now in China it seems necessary to have a proper English name whether you work in a multinational, join a music club or even make friends with a foreigner. Recently, an article entitled "US entrepreneur vows to rid China of 'farcical' western names" in The Daily Telegraph (UK) pointed out that Chinese people adopt English names to help foreign friends or potential employers who struggle to pronounce or remember their mandarin names. But Lindsay, a young American lady at the centre of the article, found that Chinese people very often wanted to find unique names but bad no idea that these bizarre adopted names would give employers an unfavourable impression at interviews or make Westerners feel confused and uneasy.
Lindsay has a Bachelor's dcgree in International Affairs from the George Washington University in the US, where she specialised in East Asia and China. Her intereset in cross-cultural communication, however, started from her high school days when she sensed a business opportunity and created the only website run by a westerner to offer an online English name recommendation service. "I am fully aware of the importance of a name to a Chinese person," she said. "In fact we westerners think the same way. Each name has its special meaning. For example, my name Linlsay means a linden tree by the riverside. It sounds nice and is easy to remember." Traditional or classic names usually give the impression of good education and intelligence, so names like Emma, Kate, and Amelia are what Lindsay recommends to girls who are conservative. For I5 yuan, visitors to her website can take a quiz that will then offer five automatically generated names which have been vetted by the company. If requirede, the website can also provide further advice.
Lindsay, with her small team, has built her website gradually into a platform to engage with her customers, offering not only an English name recommendation service but also other web columns named Studying Abroad, Fashion Trends, New Apps and Cultural Stories. Internet traffic data show that since September 2014 her website has been visited more than 20,000 times, and 1,800 visitors have paid for the English name recommendation service and around 200 were willing to pay more for Lindsay's advice about studying and living abroad.
Opening the door with a touch, easy and secure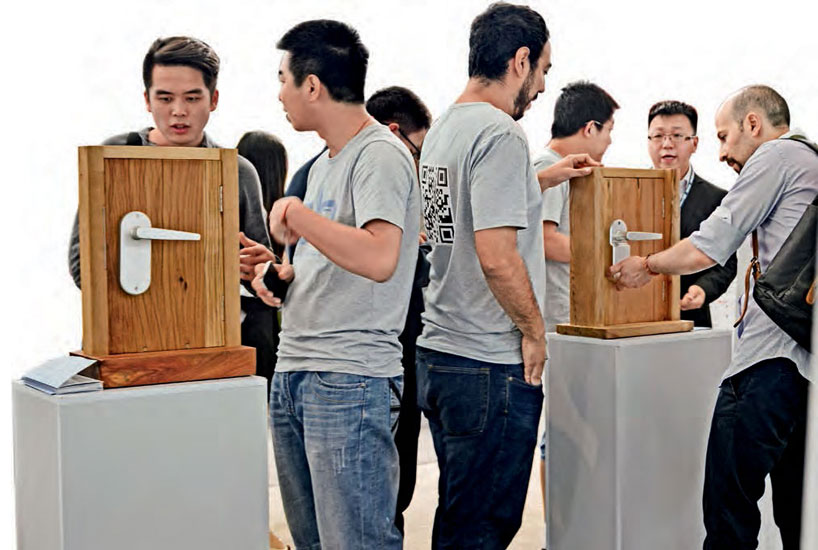 Data released recently by the China Consumers Association showed that 50% of the households in China are using Category A locks (that have flat or crescent shaped bladed keys featuring a set of concave teeth on one or each side, or cruciform keys with convex teeth on four sides), all of which would take less than a minute for a burglar to break in.
David Eguiluz, a young man from Chile, hopes that the OLA fingerprint smart locks developed by his team can provide Chinese households with more secure doors. Bursting with enthusiasm, his team has attended exhibitions, raised capital through crowd funding and he even plans to open a consulting company next year.
OLA is easy to use. You just have to register your fingerprint directly with the fingerprint sensor on the lock via an OLA App and then you can unlock the door by holding the handle the way you would normally open a door. This me1hod eliminates some of the problems that other smart phone locks have, like when your cell phone has no power or no signal, or the door unlocked by accident as you pass by. Moreover, it can work well with two kinds of It cylinder — either one-pin or five-pin, avoiding the inconvenience of changing the existing cylinder. You only need a screw driver and two minutes of yom time to install the OLA lock and with a set of 4 AA batteries, OLA can be used more than 30,000 times, which means a battery life of around two years. OLA can also register as many as 1, 700 different fingerprints, which meets the needs of both family and business users.
Although he witnessed the bankruptcy of his father's company years ago, David is optimistic about life. He was aware of the potential market in China as early as 2000 when he began to study Chinese. Later on he came to Beijing to teach English and got used to life here. At first he was deeply frustrated by the four tones of Mandarin Chinese but now his Chinese is so good that you would think him a native speaker, not a laowai.
David said proudly: "I studied one year at Beiyu (Beijing Language and Culture University) on a Confucius Institute scholarship! I am familiar with the Confucius Institute magazine and I can read its English, Spanish and German versions." David, as a foreigner, experienced with other Beijingers the devastating SARS outbreak and also enjoyed watching the 2008 Summer Olympics in Beijing with his mends. He loves China and feels himself a part of it. "Finding a new concept that can be accepted by the Chinese people" is what David regards as the most important principle in starting a business in China.
He knows that security will always be a global concern and he feels that his team, armed with the latest technology, will be able to create something meaningful and interesting to benefit the rapidly developing global society. "At present Chinese people are showing great interest in this kind of smart-home project. We have attracted a large number of customers by exhibiting at trade fairs, crowd funding online and negotiating cooperative deals offline.
Willing to share their success
It seems that all entrepreneurs in China have something in common — they are all very enthusiastic about their interests, utterly dedicated to their careers, and willing to share their success. There have been many successful foreign entrepreneurs in China who are now financially secure and their companies have remained competitive despite China's rapid development; some have even changed Chinese people's lives.
For example, he Yoga Yard, established in 2002 by Robyn Wexler, an American, continues to thrive in Sanlitun, Beijing. The Yard is not big but it is considered one of the best in the trade. It helps many people, male or female, old or young, to improve their physiological and psychological health. A hand-craft brewery set up in 2010 by another American Carl Setzer and his Chinese wife from Shandong has redefined the diverse nature of brewing. Through their work with beer associations, they have boosted exchange and cooperation in the beer trade in China and abroad. Amdo Craft, founded by Klaas Steenbam from the Netherlands, is dedicated to training Tibetan nomads in Qinghay and Gansu to make soaps, blankets and ornaments from their yak milk and Tibetan sheep wool. The company buys these natural handcrafted products from the nomads and markets them under the same brand. This has enabled many members ot the Tibetan nomad community to become self-sufficient.
There is a Chinese saying that says that it usually takes three years to recover the costs of starting a business in China. If this saying rings true for native Chinese, one can only imagine what it's like for foreigners from different cultural backgrounds with language difficulties.
At present, China is pushing to implement a series of strategies to promote innovation and development, and participate in the global innovation network. Such a stimulating environment will no doubt enhance business prospects for foreign entrepreneurs starting their diverse range of enterprises in China, so long as they have reliable professional support and are persistent in their endeavours. On the other hand, although the Chinese market has great potential, the competition here is very fierce. For instance, Uber, the American on line private car-hire service, is faced with difficulties inherent to the Chinese market and being challenged by a variety of business rivals. Uber's service was originally launched in Shanghai in August 2013. After its honeymoon period its future here is still unclear. Undoubtedly, starting a business is very difficult. There is a Chinese saying that says that it usually takes three years to recover the costs of starting a business in China. If this saying rings true for native Chinese, one can only imagine what it's like for foreigners from different cultural backgrounds with language difficulties. Let us wait and see what will happen to these laowai start-ups in China.
---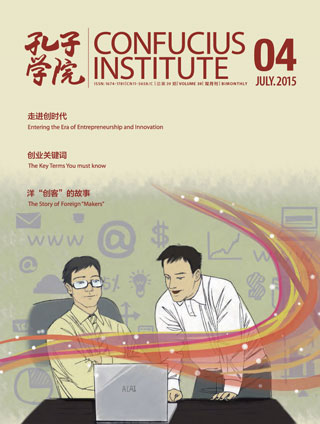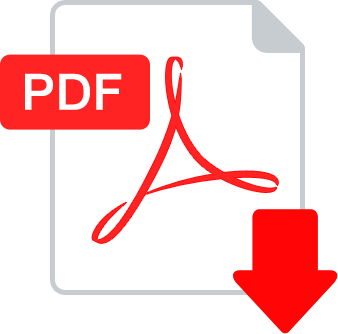 Published in Confucius Institute Magazine
Magazine 39. Volume 4. July 2015.
Read in the print edition
Comments