The giant panda, native only to China and numbering only 1,000 or so, it is a national treasure.  
S

ince 1869, when was seen the first giant panda in China, the whole world has been curious about this animal. China's Chengdu Research Base for Giant Panda Breeding have 60 giant pandas living in the 106-hectare park, which is divided into four areas, one each for adults, young adults, baby pandas and for panda incubation.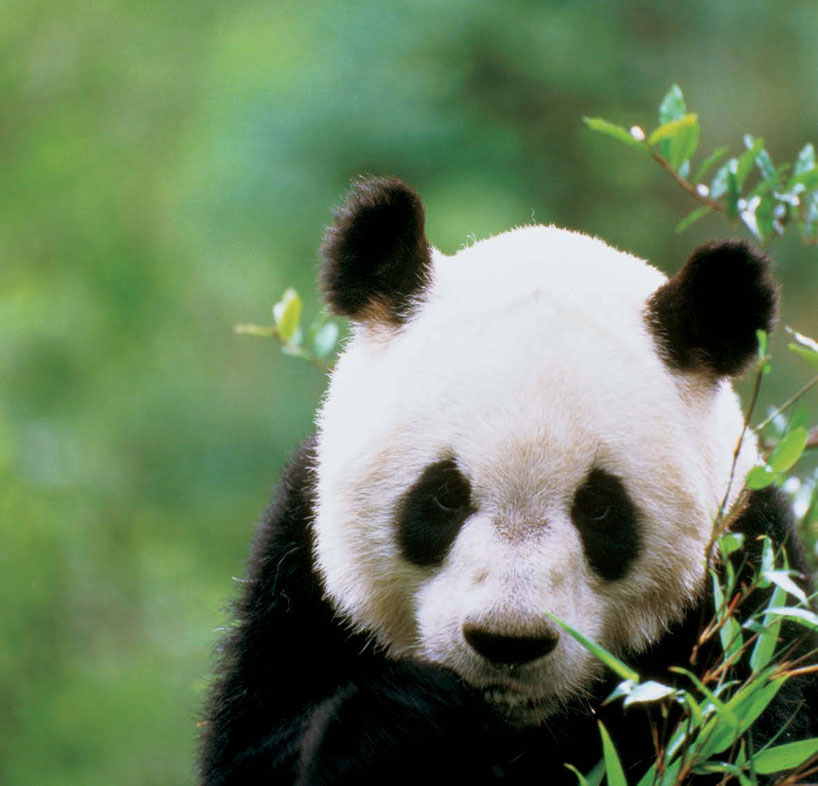 Wearing a black-and-white "coat" and an extra large size pair of "sunglasses", which are always sitting on its round head, its biggest dream is to have a color photo taken of itself.
Looking clumsily and innocently cute and adored universally, it has been chosen by the World Wildlife Fund (WWF) to be its "celebrity endorser". A species that has been called "a living fossil". Native only to China and numbering only 1,000 or so, it is a national treasure. It is the giant panda. 
Since 1869, when the French missionary Armand David first saw the giant panda in China, the West has been curious about this animal. It has been 140 years only, and yet these 140 years have witnessed flows of topics around this adorable creature as endless as spring waters of high mountains, in China and in foreign countries, in the West and in the East.
Like a mirror, the giant panda reflects years of exchanges between China and the outside world.
In 1955, when China sent Moscow a giant panda, the first to be sent abroad as a gift from the newly founded the People's Republic of China, Kliment Voroshilov, Chairmen of the Presidium of the Supreme Soviet of the former USSR, personally came to Beijing Zoo to receive the animal.
In 1972, when former U.S. President Nixon visited China, the Chinese government sent the American people two giant pandas, "Ling Ling" and "Xing Xing". On their arrival in America, 8,000 U.S. citizens came in rain to welcome them.
As of now, 27 giant pandas have been sent abroad as the Chinese people's ambassadors of friendship.
On a beautiful day, Confucius Institute reporters, with excitement and curiosity, went inside of China's Chengdu Research Base for Giant Panda Breeding, in order to bring you the most vivid panda story using our words and our camera …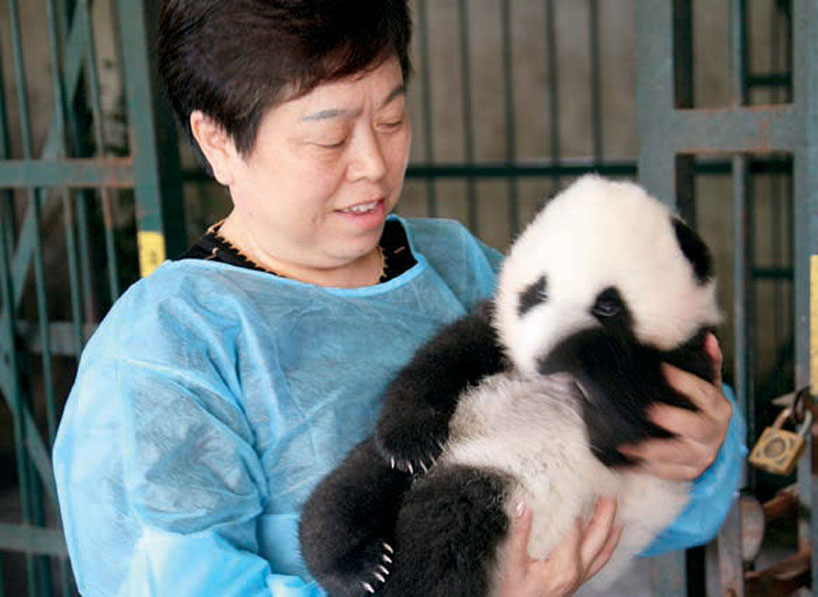 A "Town of Panda" Lush with Bamboos
The Research Base is located in the north suburbs of Chengdu, only ten kilometers from the city center. Over 60 giant pandas live in the 106-hectare park, which is divided into four areas, one each for adults, young adults baby pandas and for panda incubation.
The base is like a beautiful ecologic garden, with willow trees lining a rippling swan lake and birds chirping their clear notes in the bamboo groves. Giant pandas prefer a life of freedom and comfort. Through "eco-simulating animal sheds", the base provides a carefree environment that allows the animals to grow healthy and happy.
In order to provide the pandas an environment as close as possible to their wild habitat, the base keeps several other kinds of animals, including swans and peacocks and peahens, allowing them free range within the park. The park's tour guide told us that sometimes the pandas get mischievous and will pluck feathers off of the peacocks and peahens.
The park is very quiet, with sign plates erected in many areas saying: "I'm a national treasure and I can't stand noise". Near the animal sheds there are little storehouses for bamboo fresh from the mountains. The animal keepers wash the bamboo clean and plant it for the pandas to pull out and eat.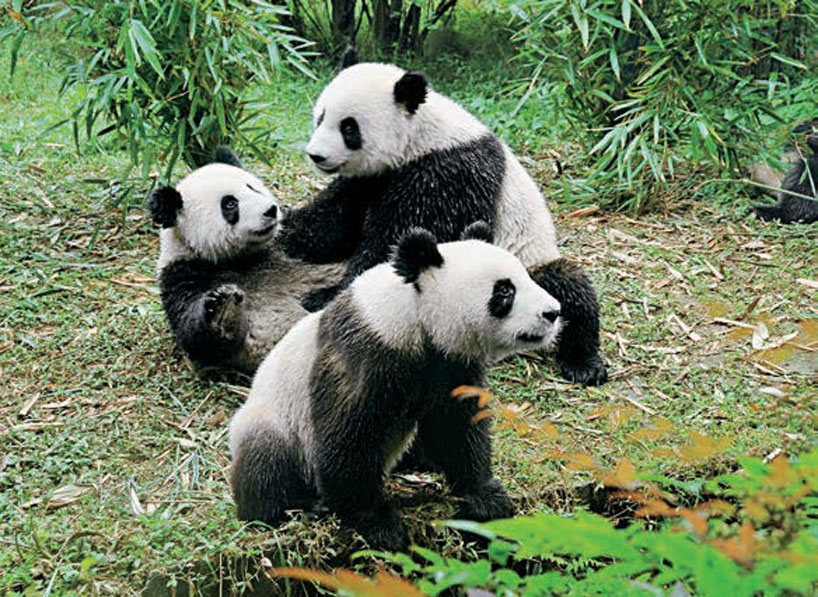 It is fun to watch the pandas eating bamboo. Tourists from all over the world set up their cameras and record the scene for memory. Adult pandas spend well over 10 hours daily on feeding, eating as much as 30 kilograms of bamboo in a single day. And they eat in supreme leisure, sitting, crouching or lying, not in the least bothered by the presence of spectators. There is one panda named "Fat Girl" who has never known proper chewing and slow ingestion, for when she feeds she gobbles down quantities as large as she can grab. Apart from eating bamboo, adult pandas in the base are provided with an additional meal per day – an enriched wōtóu (steamed bread, usually of corn flour). Of course, the "Fat Girl" alone has the privilege of eating two per day instead of one.
When visiting the panda base, make sure you see the pandas' kindergarten, located in the northern-most part of the park. All the 1 to 2-year-old baby pandas live here.
Giant pandas prefer a life of freedom and comfort. Through "eco-simulating animal sheds", the base provides a carefree environment that allows the animals to grow healthy and happy. 
Pandas of this age range are the most playful. They like climbing trees, often getting themselves stuck in a tree for a long time. We were told that, when their mood is particularly high for playing, the baby pandas may even get on the little wooden horses in the kindergarten and rock a little. The animal keepers waste no time in leaving the site after replenishing a bamboo meal, for if they do, the naughty baby pandas will come up and play with them, holding on to the animal keepers' legs.
Also make sure that you visit the young adult area at 2:00 PM, when the animal keeper brings apples to the pandas. As young adults are capable of inflicting harm, the apples are cut into pieces and then tied to the end of a long bamboo stick, which allows the animal keeper to feed the pandas at a safe distance. Pandas in this area are 2-3 years old, alert and quick. They will run over as soon as they hear the keeper's call, and start fighting with one another for apples that are still to be brought in. "Shu Yun" is very aggressive, and will step on other pandas in order to get a few more pieces of sweet apple. "Yuan Zi" is a gentle kid. When it looks like the others are about to start a fight over the apples, "Yuan Zi" will sit at a distance from them and have a good time eating bamboo.

Animal Keeper: Most Enjoyable Job in the World
There is one place in the base that is full of mystery and love, a place into which tourists often look curiously through a glass window – the panda incubation unit.
Inside the incubation unit, the quietness is the first sensation. It is so quiet there the pandas' chewing of bamboo can be heard. This is necessary in order for the mother pandas and their babies to rest well, because a quiet environment is very important for pandas.
In the nursing room, 5 panda cubs only a few months old nestle on a small bed, facing different directions, looking like furry toy animals. These cute "little babies" need 24-hour care. Every 4 hours, the nurses help them defecate, weigh them, and measure their body temperatures. The minutest details of their behavior are constantly being observed by the nurses, who keep a work journal that records the baby pandas' weight, mealtimes, etc.
It was 30 years ago when Hou Guifang was assigned the job of a panda keeper. Now almost 60 years old, she has been affectionately called "Panda Mom". She herself doesn't even remember how many pandas have grown up under her care. Newly born panda babies have to be fed their mother's milk; otherwise their immune system will not be strong enough for them to survive. Sometimes the baby pandas refuse to suckle. When this happens, the panda keepers get so worried they cry. "When you are nursing the pandas, you have to be more careful than when you're nursing your own child!" said Hou Guifang, with a look in her eyes that speaks of endless motherly love.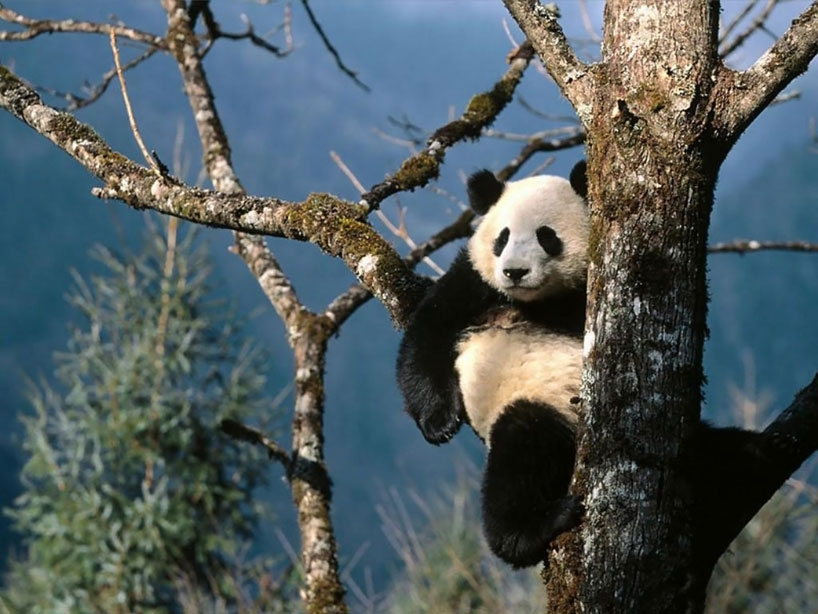 In the incubation room, we were lucky to see a mother panda breastfeed her baby. The panda keepers attend to the minutest details in their work. It was time to feed the baby panda. In order for it to be fed at the regular time, Hou Guifang had to wake up Qi Zhen the mother panda, who had been sleeping. At the age of eleven, Qi Zhen was still a naughty panda. Throughout the breastfeeding session, she had to be fed apples constantly. Nor did she sit still when she was eating the apples; instead, she turned from side to side all the time. As a result, while the baby panda didn't really eat much, its mother gobbled down a good number of apples.
Hou Guifang and her colleagues have witnessed all the technological hurdles that have been overcome in panda breeding over the past 20 years. In the beginning, the panda keepers could only take care of one panda a year; now they can manage 10. In 1987, 6 giant pandas that had been dying in the wild from disease and hunger settled down in the base after being rescued by animal experts. Here, these pandas and their offspring have given birth 84 times for a total of 123 baby pandas, making this world's largest human-bred ex-situ panda population. In the 1980s, "Difficult! Difficult! Difficult!" was how animal experts described the various kinds of obstacles that had to be overcome in artificial breeding of pandas. Pandas only mate once a year, and are very particular about a mating partner. Nursing of newly born pandas, too, was beset with a series of problems. Zhang Zhihe, director of the base, still clearly remembers how, seven years ago, he and his colleagues went through 27 sleepless nights nursing four baby pandas in extremely weak condition.
Panda keeper is a relatively demanding and low-paid job. However, four years ago, Serena left her high-paid job in the United States and has worked in the base ever since. When asked why she has been so devoted to the job, Serena said that no other animal is more beautiful than the panda or more able to rouse our protective instinct. "Nothing makes me happier than being able to do something for the panda."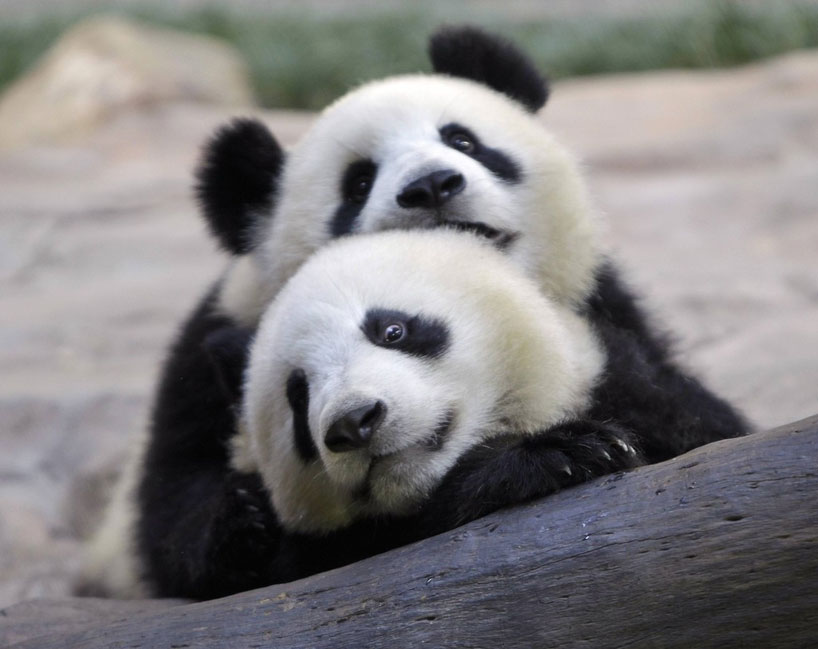 The Panda Is Guarded by Loving Hearts
The panda is a treasure not only of China but also of the world. It attracts huge crowds of visitors wherever it appears. People love its furry look and many dream of being able to hold it in their arms. In 2010, Chengdu Research Base of Giant Panda Breeding recruited "Pambassadors" (panda guardians) from all over the world. From among 60,000 applicants, six young people had their dream come true after going through several rounds of screening. They are from China (one from Taiwan and the other from Guangzhou), France, Sweden, Japan and the United States.
Ashley is the lucky one from the United States. Every morning at 8 o'clock sharp, Ashley shows up at the gate of the panda kindergarten and starts her busy day as a Pambassador, cleaning up the animal shed, washing the bamboo, preparing food supplement tablets for the pandas … "Every day I work five hours at the base, but the time I spend together with the pandas goes so fast that it seems to be only ten seconds." Of all the pandas there, she likes to be with Qi Qi the most: "Qi Qi is a really cute panda. Whenever I call it, it runs to me. And it's always reluctant to see me leave; always runs after me a while. I think of Qi Qi all the time."
In order to do a better job taking care of the pandas, within their first few months in China the Pambassadors managed to learn to communicate with the panda keepers using simple Chinese. David, from France, has even learned to call the pandas' names using Chengdu dialect. "I still cannot speak well. I want to learn more Chinese when I'm back in France," said David.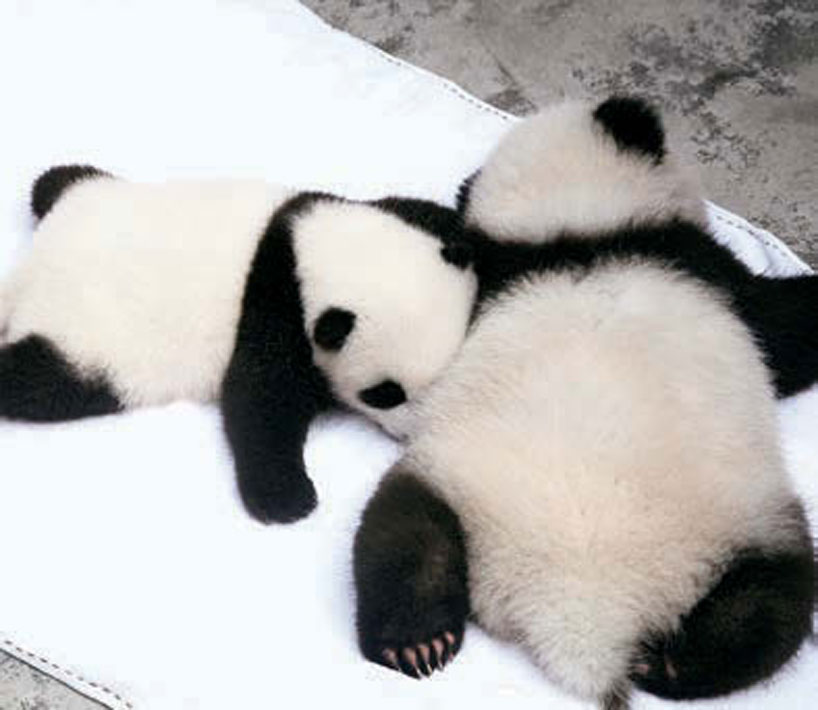 The panda is showered with love from all over the world. On November 3, 2010, the prestigious University of Cambridge donated RMB 500,000 adopting a female baby panda of less than 100 days old. Many pandas in the base have been adopted by caring companies or individuals. People of different skin colors, different languages and different nationalities show their love for the panda in various ways. The staff at Chengdu Research Base of Giant Panda Breeding told us that every day they receive donations from at least 20 visitors, and that sometimes visitors have to queue in line to make their donation. These loving hearts have woven themselves into an invisible safety net that allows the giant panda to live happily and multiply on the earth.
A rare species that numbers only some 1,000 worldwide, the giant panda is on the International Union for Conservation of Nature (IUCN) Red List of Threatened Species. Statistics show that every day nearly a hundred species disappear from the face of the earth. Many animals that we love are facing extinction: the Asiatic elephant, the Tibetan gazelle, the golden snub-nosed monkey, the Andean condor … Fortunately, more and more people have started to take action. The United Nations declared 2010 the International Year of Biodiversity, holding a series of forums, exhibitions and lectures all over the world. At the 10th Conference of Parties of the Convention on Biological Diversity, all the signing countries promised to incorporate protection of biodiversity into their national plans and to raise nation-wide awareness of ecological protection through legislation.
It requires our united effort to treat our animal friends well and keep our earth in harmony.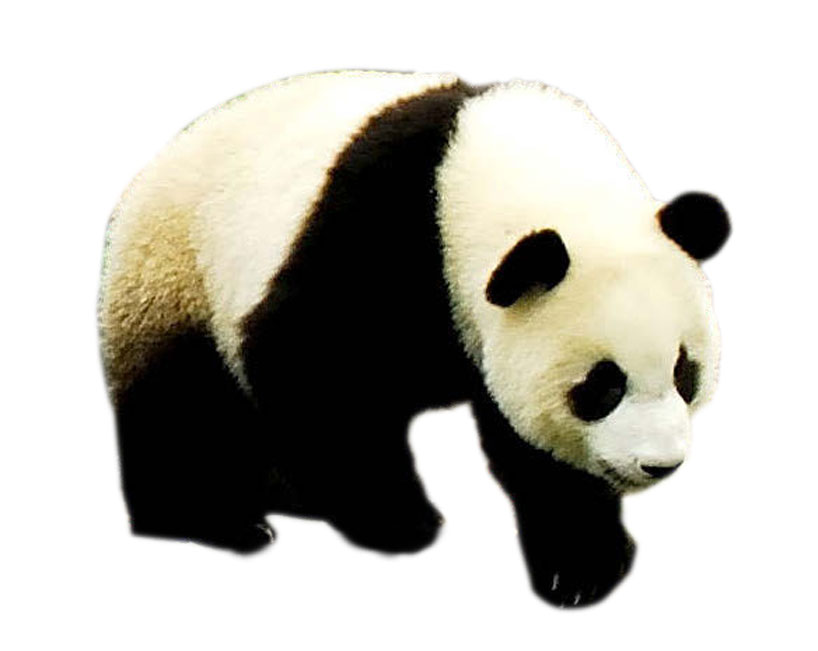 ---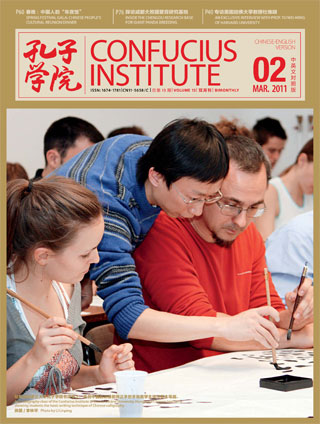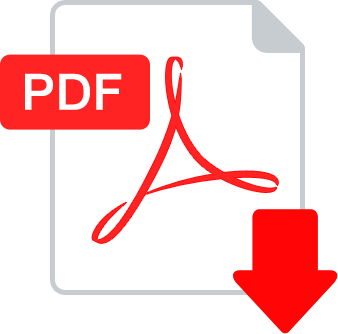 Published in Confucius Institute Magazine
Magazine 13. Volume 2. March 2011.
View/Download the print issue in PDF
Comments