The Hakka Tulou are large circular houses, mainly distributed in the bordering areas of Fujian Province (South China), mostly built between the 12th and the 20th centuries for defence purposes. These vernacular structures were occupied for a Hakka clan as housing for up to 800 people each.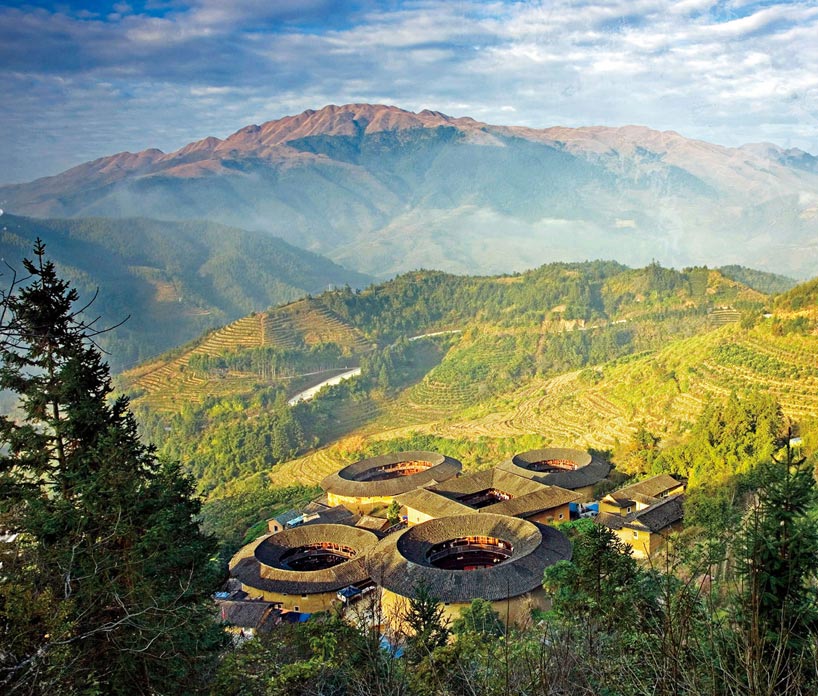 EDITOR'S NOTE
Yongding's Hakka tulou (earthern houses) are like garlands of wildflowers with a lingering scent of soil, lying peacefully and timelessly in the immense course of history without withering or decaying away. UNESCO once assessed the "Hakka tulous as one and only infrastructure of its kind in the world, with its exotic flower shaped infrastructure set in a fairy-tale like mountainous settlement."
Mr. Yu Qiuyu, a well-known contemporary writer, once said that because of the accumulation of several hundreds of years of culture, the cultural history of Hakka people is a rich and profound one. Throughout their history, the Hakka people have carried the responsibility of promoting and developing Chinese culture, like a mission endowed upon them by nature.
In this issue, our reporter will take us to the Hakka tulou in Yongding to have a taste of Hakka culture.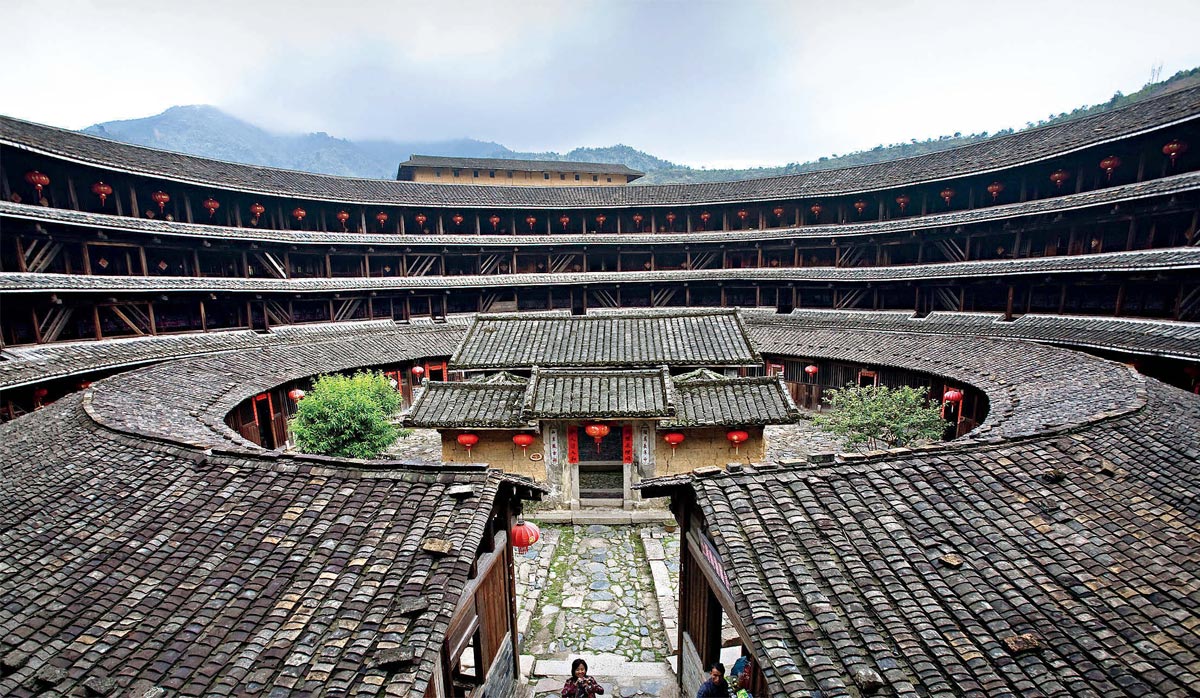 After a three-hour drive from Xiamen, I arrived at Yongding. This is where the largest group of tulou is located in China.
As previously arranged, a young smiling Hakka woman named Xiao Jiang came to greet us. She married a native man several years ago and became a resident here. She said that everyone in the village has the same surname Lin, and those living within the same Hakka tulou belong to the same clan.
Entering the Yongding scenic area, we passed through the Hakka's walk of fame. Here we saw neatly inscribed plaques by the roadside, engraved with the names of 168 famous Hakka from political, military, commercial, literary and art circles. "We Hakka have great respect for our forefathers," said Xiao Jiang. "We will never forget the brilliant achievements they have accomplished!" Although Hakka descendants are found all over the world, they continued to follow their dreams with tenacity, working diligently and have also made great accomplishments. They are still in the process of developing Chinese culture. They are still contributing to world cultures. They are promoting cultural integration that are worthy of memory.
Water is the source of life. Hongchuan Stream flows through the village winding like a Chinese dragon, with the tulous snuggling along its sides. This stream is the soul of this area, without which everything would not exist. The gurgling sound of the river can be heard as we walk along the banks of the stream. Some Hakka women can be seen washing their clothes and going about in a typical day of their lives. The scene of "a small bridge over a stream, with cottages in sight" creates a cosy and serene picture. Here quietly stand many earthen communal houses, witnessing the hard work of generations of the Lin clan. Nearby, an old waterwheel turns tireless with the sound of cascading water, as if it's recounting stories of the past.
The south-facing Zhencheng Lou (Zhencheng House), circular in shape and constructed with timber piles, is a masterpiece of the Hakka tulou. This design is derived from the Hakka's worship of Heaven. According to Yijing (The Book of Changes), circle symbolizes Heaven and the universe. The Lin's ancestors of centuries past, with their great wisdom, had advanced notions of environmental conservation that put us to shame. The main building material of the tulou is clay mixed with glutinous rice, brown sugar, eggs, etc., which were repeatedly kneaded, pounded and pressed in the course of construction.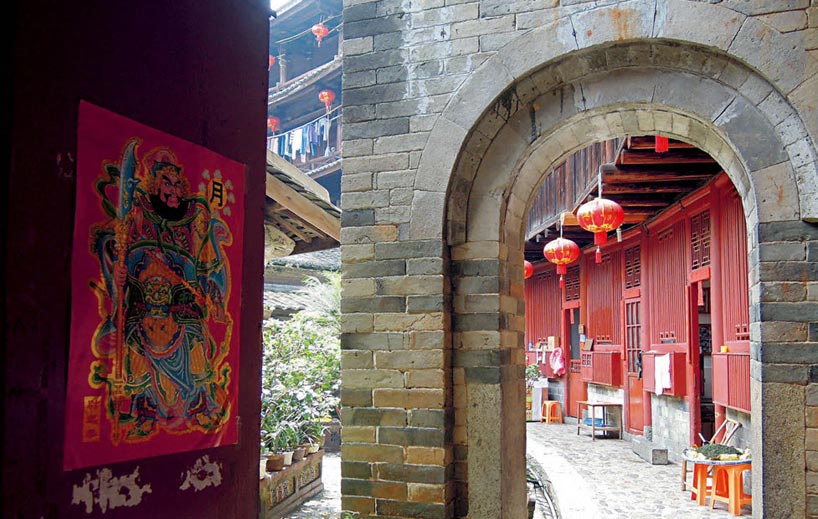 Constructed in accordance with the ideology of the Bagua (the Eight Diagrams used in traditional divination), this circular structure is warm in the winter and cool in the summer. During the day, the sky well in the centre of the tulou will brighten every room in the house and at night, one can see the glimmer of lights from oil lamps and candles. The whole building is equally divided into eight sections, with a firewall between each section. In every section, there are six rooms. Each of the eight sections is by themselves self-contained units, but the whole building can be connected when the gates separating the sections are opened.
Standing 19 meters in height, Zhencheng Lou has 4 floors that are comprised of 208 rooms. Every floor has its own function. Rooms on the ground floor are used as kitchens, dining rooms and reception rooms; those on the second floor are storage rooms and granaries; rooms on the third and fourth floors are used as bedrooms. This building is uniquely designed to withstand seismic activity, to shield residents from wind, to be fire resistant, burglar proof and it also has a special smoke ventilating system.
The walls of the buildings are tilted inward. This creates an inward force that allows the structures to restore themselves if any cracks occur after an earthquake. Due to the circular floor plan of the Hakka tulou, wind pressure is low, making the building resistant to winds. As there is a firewall between every section, a fire may burn down a section but it will not spread to other sections. If burglars break in, they cannot escape if the gate of the house is closed. To expel smoke, chimneys that go up to the roof are built within the walls, so that people will not have to cook in smoke filled kitchens. From these features, the ancestors of the Hakka people have given us modern people much inspiration. They have really achieved total harmony between people, between man and society, and between man and nature.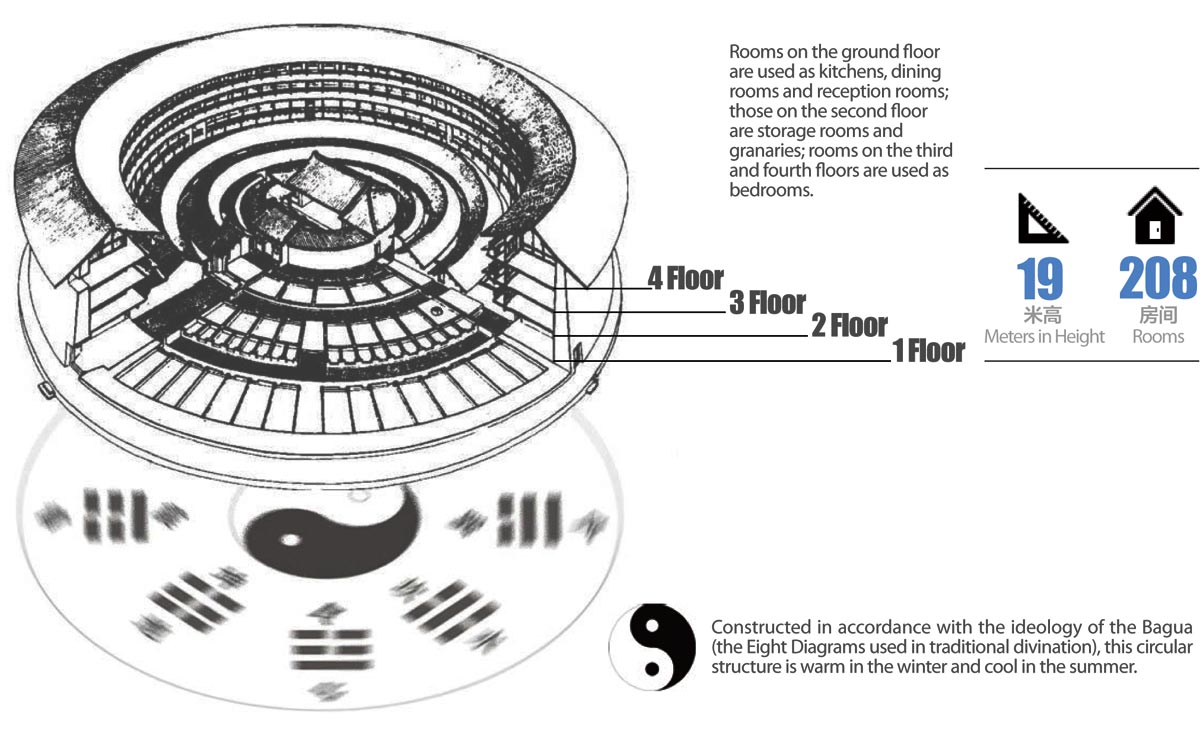 The weather here with its sudden sun and rain is like a child's face. Xiao Jiang sang a Hakka nursery rhyme: "The baby cradle rocks and rocks, rocking me to Grandma's Bridge. Grandma calls me a good baby, able to cry and able to laugh." Xiao Jiang told us that the bridge ahead is called Yue-e Bridge, also known as Grandma's Bridge. After crossing the bridge, we would be able to see Kuiju House. With its tiger-head shaped façade and two windows on the front wall representing the tiger's eyes, built next to the mountain and river, Kuiju Lou is described by the natives as a ferocious tiger coming down the mountain.
This 160-year old Kuiju Lou (Kuiju House) is a rectangular earthen building with a palace like structure. The increasing signs of wear and tear as a result of its long history had paradoxically added more charm to it. Though not particularly remarkable in its exterior, Kuiju Lou possesses a detailed and ornate interior, in which exquisite wood carvings, stone carvings, brick carvings and character-engravings are all perfectly presented. The building material for this building is clay and stone, but years of strong winds have weathered its clay walls, causing them to become damp easily. As a result, Kuiju House is not a comfortable place to live in.
The Chinese character 奎(kui) in Kuiju Lou stands for the Kui star, the first star of the Big Dipper. In Chinese mythology, the Kui star represents the god of scholarship. Under the blessings of Kuiju, in the past one hundred odd years, this house has brought forth four jinshi (scholars who passed the imperial examinations) that were awarded the seventh rank (a county magistrate) or higher, more than 20 university students and over 40 overseas Chinese, a remarkable achievement testifying to the couplet on the sides of the gate to the house that says: "The Kui star sparkling in the sky gives its blessing to a literate community; the clan gathering in this house looks forward to a new future." Xiao Jiang told us 28 families used to live here, but only 10 remain now. Most people moved because of the inconvenient living facilities here. As we walked and chatted, it began to rain heavily. At Xiao Jiang's invitation, we took shelter from the rain in her house with a cup of tea .
The sources of livelihood of Hakka living in the tulous come from selling tobacco, fruits and tea leaves. Like others, Xiao Jiang's family earn a living by selling tea leaves. They use the ground floor as a shop-front, while the whole family lives upstairs. "We Hakka people drink tea every day and cannot live without it" said Xiao Jiang while making tea. "If you are invited to the home of a Hakka but not given a cup of good tea, it means they think you are beneath them!" Xiao Jiang said that she used to sell tea leaves in a nearby town, but her parents-in-law are old now, so she stays at home to take care of them and her children. "My husband works as a mason in town, and I have told him to come back if the work is too hard. I do not expect much from him, just as long as he uses what he earns for the benefit of our family. We all want our family to lead a good life. Family harmony brings us prosperity and ease to everything we do!" Hakka have strong family values; they respect all elders and attach great importance to xiao (filial piety).

The skies brightened up after the rain. The cobblestone road was washed so clean that it gleamed in the light. On my way back, I had the opportunity to take a look at the stalls, stores and billboards along the way, only to find that the TV series Going down to the South Seas (Xia Nanyang) and the movie The Ballad of Cloud and Water (Yun Shui Yao) were filmed here. Media has helped publicized the style and features of the earthen houses. Visitors can learn about the Hakka culture by watching performances of Hakka folklore in the newly built Tulou Theatre. Many people have also stopped to watch artists painting in distinctive small galleries.
It is worth mentioning that services around the tulous are keeping pace with the times, providing visitors with both Chinese and Western styles services. Signboards for various local accommodations were written not only in Chinese, but also in other languages. Tourist message boards are also full of comments from foreign visitors, among which was a brief but poignant message — "Never Forget".
Although I have left the tulous, I will not forget Xiao Jiang's innocent eyes showing her contentment for simple pleasures. The Hakka earthen houses in Yongding sit in a beautiful paradise, where Xiao Jiang and generations of Hakka had lived and worked. The tranquillity here can only be found in the dreams of people living in the modern society.
More about Chinese traditional residences at Confucius Institute Magazine – ConfuciusMag
---
Published in Confucius Institute Magazine.
Number 29. Volume VI. December 2013.
Comments