Liam Robert Bates: "When I was little, I dreamt of being an astronaut, because astronauts can see what the others can­not see. When I was a high school student, my "astronaut dream" turned to a 'Chinese dream'".
What's China really like in the eyes of foreigners? Which parts of Chinese culture are the most attractive? What are their personal experiences while learning Chinese language? Are there any touching stories that happened to them during their stay in China? You will find the answers here. After reading the following stories, don't you have the desire to pick up your pen and put down something in Chinese about things around you?
Liam Robert Bates (University of British Columbia in Canada)
At 16, I traveled to Beijing on my own. Walking out of the airport, I jumped into a cab. At that time, I knew nothing about Chinese. Even with gestures, the driver could not figure out what I meant. I was so frustrated that I was all in sweat. As a result, the driver gave a de­touring ride around the downtown area, during which I saw the Summer Palace, the Temple of Heaven, the Tian'anmen Gate…. Though this ride cost me more than 300 yuan, I was still grateful to him because it was this detour that aroused my interest in Beijing. This "cab tour" ignited my deep feeling of China. I made up my mind to learn the Chinese language, know about China and understand China.
From the stone monuments engraved with Chinese characters, I saw not only the beauty of Chinese callig­raphy, but also the long history of the Chinese nation. From the touches of the paintings of "three cold-weath­er friends — pine, bamboo and plum," I saw the lofty and unyielding character of the Chinese nation. From the texts of Confucian and other Ancient Chinese Clas­sics, I saw the Confucian Great Harmony and Taoism's heaven of peace. I love Chinese martial arts. The ancient weapons, swords, spears, and halberds, opened another window for me to know China. These are all pleasures I had when learning Chinese, and they are also my valu­able spiritual wealth. Mastering the Chinese language, I would be able to view our world from a different angle, just like an "astronaut." Therefore, my "astronaut dream" turned into a "Chinese dream."
My Chinese dream, like the Silk Road, connects me with this beautiful oriental country. "Chinese dream" realizes my dream to see the world. I hope the Chinese language could build a bridge between China and the world, enabling the world to know about China and China to join the world as well.
---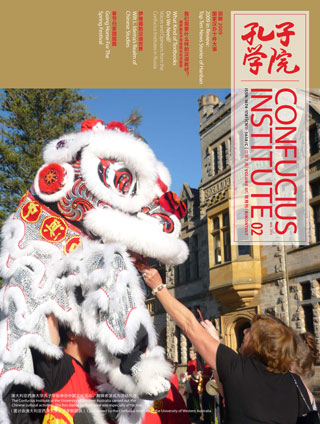 Published in Confucius Institute Magazine
Magazine 07. Volume II. March 2010.