Mo Yan, China's 1st Nobel Laureate in Literature, has 100-odd outstanding novels and countless awards to his credit by dint of combining "hallucinatory realism with folk tales, history and contemporary life"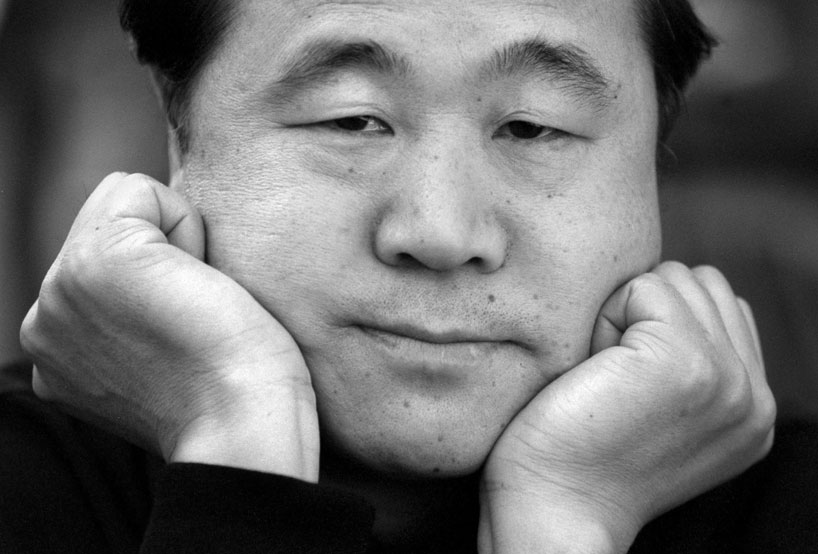 Born in the countryside, he is a fellow of rustic austerity; dubbed as "a little braggart", he has been a great talker and fond of storytelling since his childhood; with an imaginative mind, he believes that a masterpiece should be filled with descriptions of odor, tableaux, sound and temperature; once pulling out all the stops to flee his hometown, he is coming back over and over again… In the past 30 years, he has 100-odd outstanding novels and countless awards to his credit by dint of combining "hallucinatory realism with folk tales, history and contemporary life". He is Mo Yan, China's 1st Nobel laureate in literature.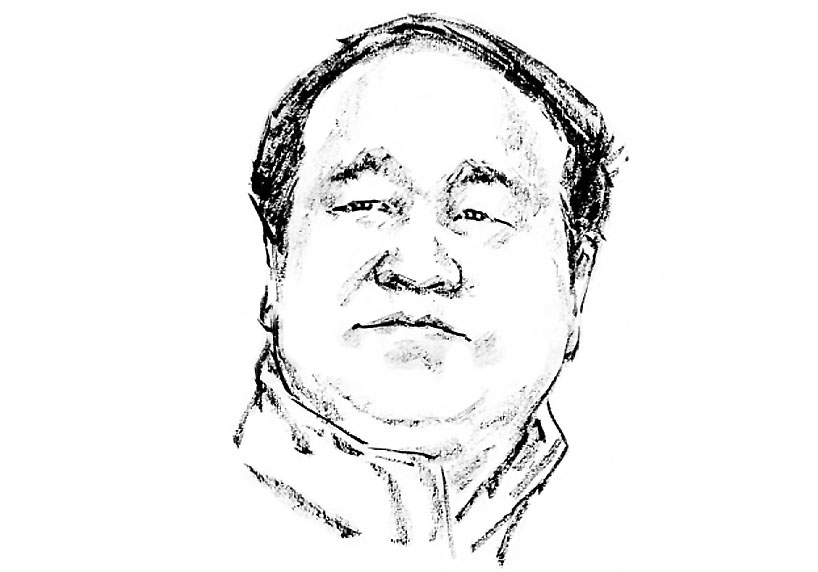 GROWING EXPERIENCE:

Perceiving the World Through Imagination
There is an old Chinese saying: "Literary talents are generally ill-starred in their lives." In other words, only the writers who have suffered repeated setbacks can understand the true meaning of life and produce masterpieces. The growing experience of Mo Yan is the best example.
Mo Yan was born into a peasant family in Gaomi County, Shandong Province in 1955. In face of the toughest economic times, his family, like thousands of other households in China, was struggling in poverty. The early years of Mo Yan were fraught with hardship: at the age of 12, he quitted primary school to lend a hand on the land; at 18, he became a casual worker in the town; at 21, he joined the army to extricate himself from grinding privation…Now we are wondering since when he has stepped onto the path of literature.
As the primary concern of local residents at that time was to meet the material needs, literature and art were miles away from Mo Yan. Once he heard about a novelist who lived a very "luxurious" life as to eat dumplings – his favorite food – at each meal. "My first dreams about writing were ignited by the temptation of dumplings," said he with great admiration.
Just kidding, eh. Anyway, in those years, three things contributed to the transition of the young man into a writer: reading, listening to legends and herding.
"A writer's mission is to follow his heart and study the destinies and emotions of all people so as to make his own judgment."
Mo Yan is a real bookworm. For want of good reads in the village, he used to exchange his labor or property for books. In those days, he acquainted himself with a number of classical Chinese novels like Romance of the Three Kingdoms, Strange Tales of Liaozhai, and Romance of the Sui-Tang Dynasties, and the true concept of literature took shape in his mind. "After I finished the dozen of books in our village, I thought all the books in the world were near at hand. Only when I entered the county library did I realize that there were so many books I had not tried yet. Today, I am further convinced that it is impossible to swallow a minor proportion in my whole life," said Mo Yan.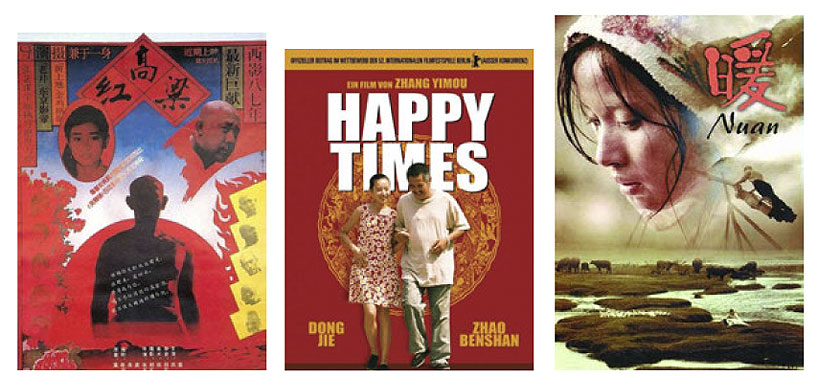 In addition to reading, Mo Yan enjoyed listening to the sidewalk stories that were passed down through generations. Under the spell of pantheism of Qi culture, such rituals as exorcism and rain-praying were popular in his hometown. As a child, Mo Yan found the world both familiar and strange with mysterious creatures all around him, which stimulated his surreal imagination.
Meanwhile, Mo Yan had a delicate perception of the real world. After he dropped out of school, he undertook the task of herding and cutting grass which enabled him to get closer to nature: in cattle's eyes he could see his own reflection; sometimes he lay on the grass to contemplate the clouds in the sky, hearken to the songs of birds and even the sound of grass growing, and inhale the perfume of the land. Such experiences provided him with a multitude of writing resources.
Perceiving the world through his luxuriant imagination, Mo Yan identified life as a full-length novel. One day, he dreamt of "an old peasant bending over and working on a radish field. Coming onto the scene is a girl with a fish spear in her hand, who forks a radish, holds it up and walks towards the sunshine. The radish is shining with a glorious gleam". The dream is the prototype of A Transparent Radish. "My childhood memories are the soul of my novels in which you can see the land and rivers, plants and trees, birds and beasts, myths and legends of my hometown.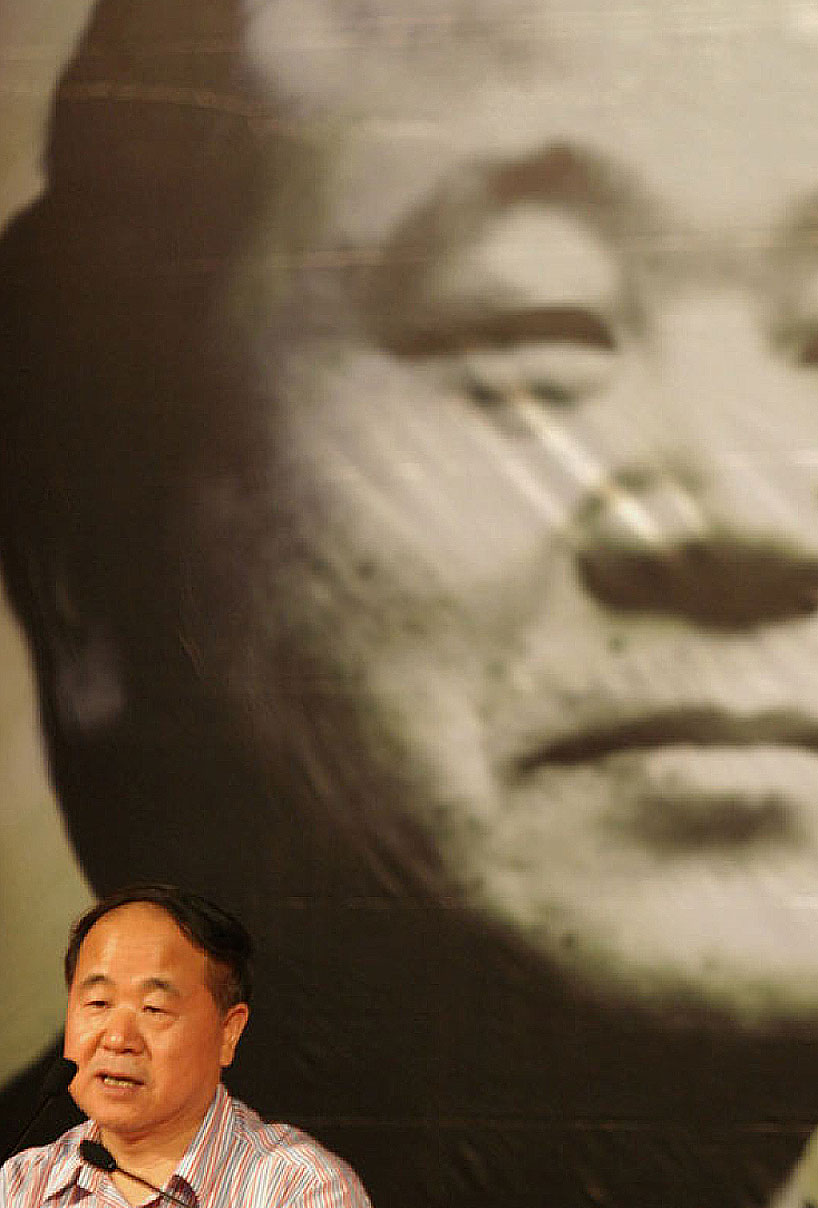 WRITING:

Focused on People
In 1976, the 21-year-old Mo Yan clambered onto a truck full of rookie soldiers and, like a bird flying out of a cage, left his hometown without a backward glance. He started writing at the military warehouse. In spite of frequent contributions, he did not publish his first novel, Falling Rain on a Spring Night, until 1981. Three years later, his novel, Folk Music, found favor with a famous author named Xu Huaizhong, which earned him the precious opportunity to do further studies at PLA Academy of Arts. In 1985, he became famous overnight with the novel, A Transparent Radish, followed by a number of remarkable works which have earned him great acclaim at home and abroad including Family Stories of Red Sorghum, The Garlic Ballads, Forty-one Cannons, Big Breasts & Wide Hips, Life and Death Are Wearing Me Out and Sandalwood Penalty.
Famous for the dramatic plots, Mo Yan's works have created a mysterious subjective world through the merging of hallucinatory realism with folk art in Shandong. His unique writing style can be seen in the brilliant and fantastic stories saturated in his unconstrained imagination.
On a winter evening 28 years ago, Mo Yan read these words from Snow Country by Yasunari Kawabata: "A black and unbridled Akita dog crouched on a stone over there, constantly licking hot water." He was immediately enlightened: even a dog and hot water can find their places in a novel! "I finally understand what a novel is and what I should write about." Putting the book down, Mo Yan wrote the following sentence: "There is a kind of docile white dogs native to Dongbei Village in Gaomi. After several generations, we can hardly find a purebred." For the first time he had mentioned his hometown in his novel.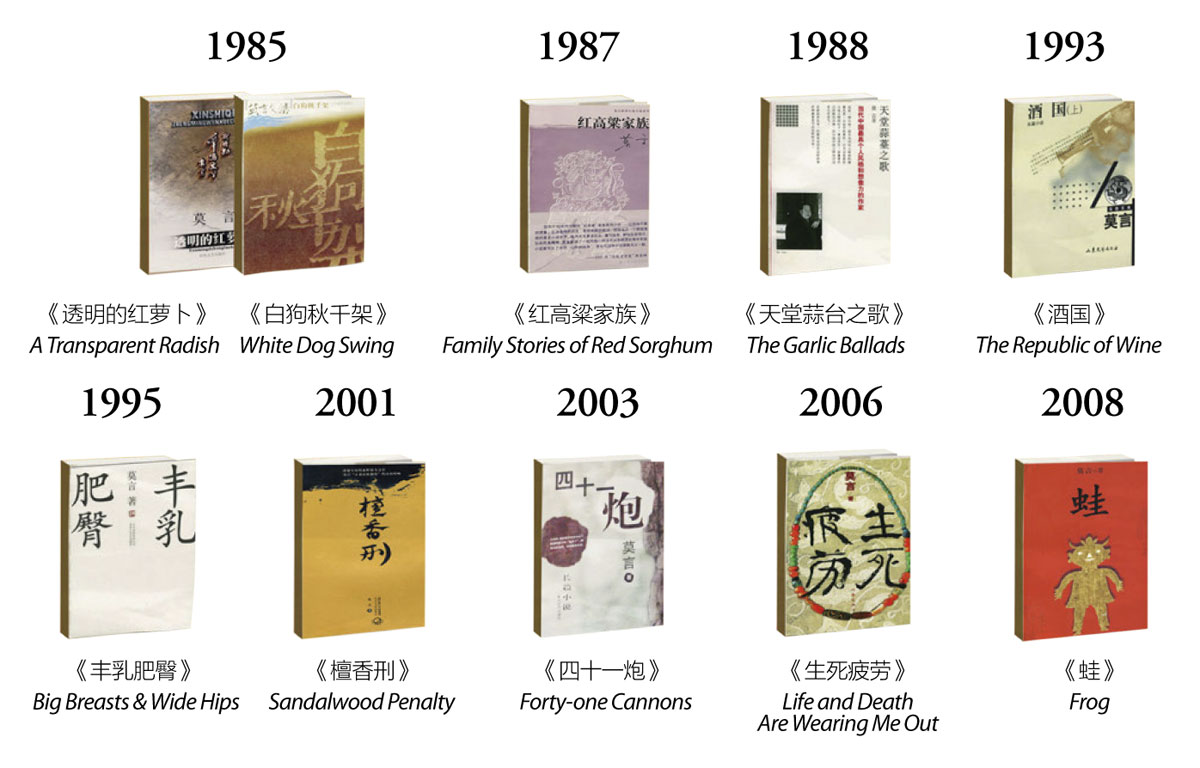 "Dongbei Village in Gaomi" seemed a key to open the chamber of his memories. He recalled his childhood, and his mind was teeming with new plots. From then on, he never had any trouble with writing resources. "In the past, it was I who did the writing. Now the novels write themselves, and I become the subject matter of my works." Mo Yan has managed to integrate his childhood experience with folklores, and "incorporate his ideas in tales, myths and legends, a mixture of truth and falsehood". The boy who ran away from home is coming back in his own way.
"My childhood memories are the soul of my novels in which you can see the land and rivers, plants and trees, birds and beasts, myths and legends of my hometown."
Mo Yan has, by combining his unique writing habits with personal, national and local genres, constantly tapped into new styles rather than stubbornly clinging to hallucinatory realism. For instance, in Sandalwood Penalty, he employed the folk art of singing and talking as well as the chapter titles in the couplet form, the latter being prevalent in the novels of Ming and Qing Dynasties; in Life and Death Are Wearing Me Out, he distilled the idea of circles of life from traditional Chinese culture and created a character with seven lives so as to manifest Chinese history from seven perspectives. Those are never seen before in novels from other countries. Besides, he has used a good many impressive expressions of Shandong dialect in his novels, as he believes "a real writer should go to devious lengths to enrich the national language".
On the other hand, the contents of his novels are quite realistic and serious in contrast with the complex and elaborate styles. "Literature and art ought never to be the tool of eulogizing, but to expose the dark side. A writer's mission is to follow his heart and study the destinies and emotions of all people so as to make his own judgment." In Mo Yan's eyes, people are complex creatures, as the kind-hearted have their defects and the evil-minded have their virtues. A masterpiece should be the one that is focused on people and reveals the injustice of the society.
NOBEL LAUREATE:

National Literature Belonging to the World
"If I were to choose a Nobel Laureate, it would be Mo Yan. Among the Chinese writers I know, Mo Yan is the greatest," said Kenzaburo Oe, the 1994 Nobel Laureate in Literature, at the awarding ceremony. These words are still posted on the website of Swedish Academy.
On Oct. 11, 2012, the Nobel Committee announced that Mo Yan had received this year's Nobel Prize in Literature. A deluge of congratulations and criticism came along. As a matter of fact, his works had been variously understood long before. Some revered him as an avant-garde writer, some pointed out the out-and-out imitation in his writing, and some argued that his works had pandered to the inveterate prejudice of the western world by magnifying the backwardness, brutality, ignorance and nastiness of Chinese people, as opposed to oriental culture and ethics…
Mo Yan took a cool attitude towards the controversies. "I am equally grateful to my supporters and critics for giving me the chance to place myself in cacophony where I can notice my weaknesses and quintessential qualities that need to be carried forward."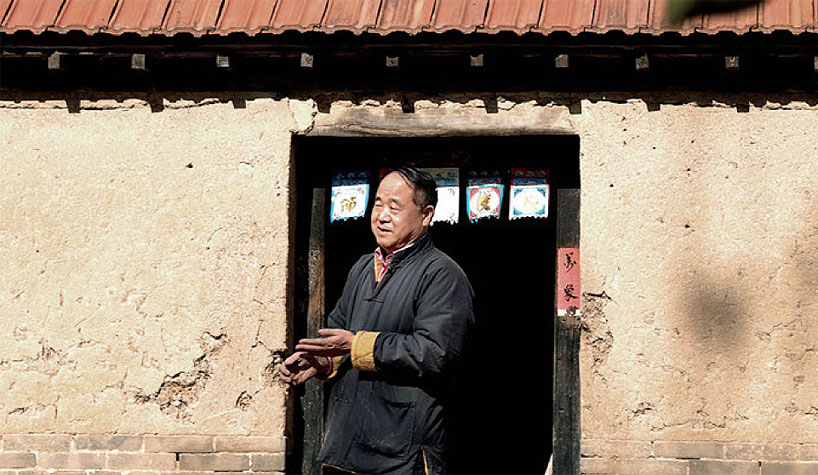 Today, Mo Yan's works have been translated into a dozen of languages including English, French, Spanish, German, Swedish, Russian, Japanese and Korean, and have received many awards at home and abroad. Anna Chen, the Swedish translator of his novels, claimed that Sweden had seen many Chinese learners who tended to read translated novels and showed growing interest in the language. "It has something to do with the economic strength and international status of China. In view of its increasing influence, people are bound to pay more attention to its literature."
Through his novels, Mo Yan has managed to promote such folk arts as clay sculpture, paper cutting, Chinese New Year paintings and Mao opera to the world by presenting vivid national images to readers at home and abroad. "In spite of their distinct Chinese characteristics, my works belong to the world. They have not only showcased the local lifestyle as well as the unique culture and charms of the country, but also described people in a broader sense, thus breaking through the territorial, racial and ethnic boundaries."
Originally named Guan Moye, he adopted Mo Yan – meaning "don't speak" in Chinese – as his pen name to remind himself of the childhood lessons he learnt from speaking the truth. In fact, he is always proud of being outspoken. "Some people may detest my clear-cut description of the evil of human nature, but I will not make the slightest change to cater to their tastes. I will write in the same way even if it means losing the last reader". An honest, hard-nosed man with childlike folly in his mixture, such is the portrait of Mo Yan.
---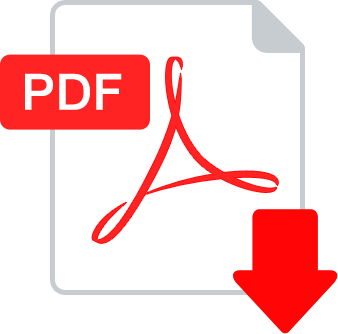 Published in Confucius Institute Magazine
Number 23 Volume VI. November 2012.
View the PDF print edition
Comments