An interview with Professor Plamen Legkostup, former Rector of the St. Cyril and St. Methodius University of Veliko Turnovo, Bulgaria: "In recent years, China has taken actions to protect its traditional art and the Chinese have shown a deeper respect for their own history and culture."
Plamen Legkostup, an outstanding Bulgarian artist and educationist, serves as Board Chairman of Confucius Institute at the St. Cyril and St. Methodius University of Veliko Turnovo (UVT) in Bulgaria and Senior Advisor to Confucius Institute Headquarters. In 2012 Professor Plamen, Rector of the UVT at that time, a great deal of effort to help establish the Confucius Institute at the UVT. In 2013, the UVT took the lead in carrying out reforms in admission policy for Chinese majors in which a Chinese testis listed among other exams for college admission. Whenever the Confucius Institute hosts an event Professor Plamen is always present from the beginning to the end, although he cannot understand Chinese very well. To help establish the Confucius Institute is the best decision he has ever made, he said. His art exhibition was held in Beijing in June 2016. The reporter from Confucius Institute interviewed him.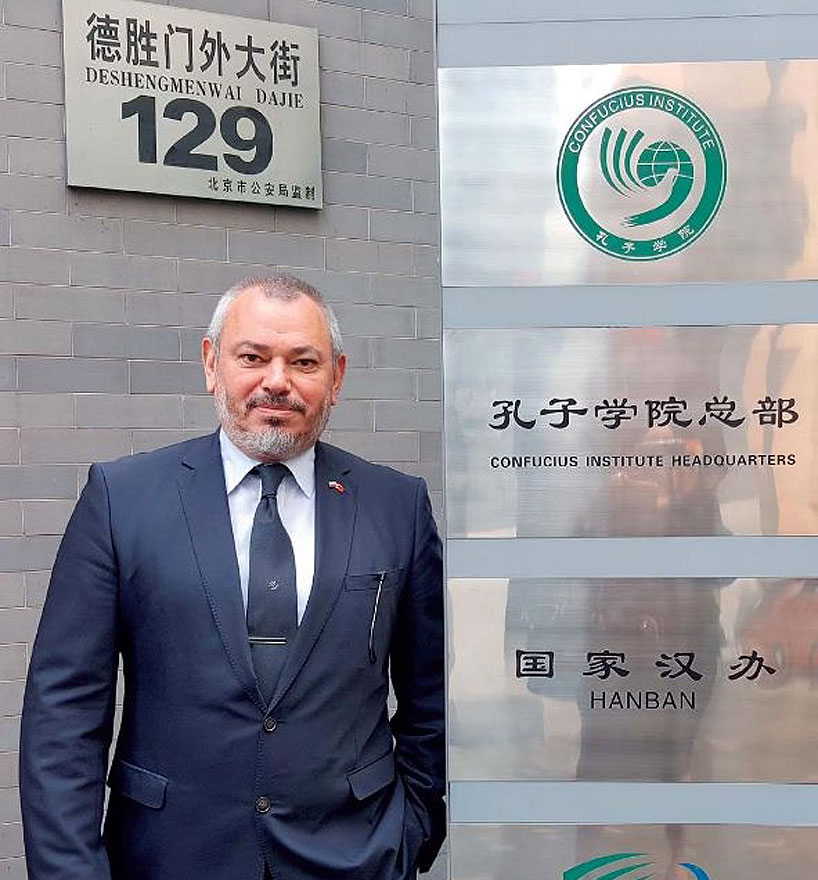 —Your paintings show a fair number of typical Chinese images. What has inspired you?
Plamen Legkostup: The 49 pieces at the art exhibition in Beijing were made between 1980 and 2016. There were block prints, paintings and computer graphics. All the paintings were made during my stay in China. There are many Chinese images interwoven with one another, such as Chinese dragons, tortoises, pagodas, Taiji, yin and yang. Among these paintings, View of China is the first one in my China-themed series. In this painting, you can find my visa for my first travel to China in 2010. In other paintings such as Memory of Xi'an and Memory of Wuhan, you can find images of many historic landmarks and the Chinese sturgeons of the Yangtze River. I love to paint fish because the pronunciation of the Chinese character 鱼yú is the same with that of 余yú 'surplus every year', bearing an auspicious meaning.
—You have visited China many times. Have these visits influenced your artwork style?
Plamen Legkostup: In 2010, I attended a workshop for senior education officers hosted by Hanban. It was my first visit to China. In the next few years, I went to Xi'an, Nanjing, Wuhan and many other cities. From these visits, I have drawn inspiration for my artwork. In addition, our Confucius Institute director Iskra is a scholar interested in the history and culture of the Tang Dynasty. She told me many stories about the dynasty and Chinese mythology,for example, the story of Nǚwa, a goddess in ancient Chinese mythology, repairing the pillar of heaven. She repaired the original imperfect heaven using five-coloured stones and cut the legs off a tortoise to hold up the sky because she's afraid it might collapse any time. I created a piece of artwork out of this story – a tortoise carrying the world on its back. I also like the images of Chinese dragons. Thirty years before I had drawn Bulgarian dragons but after the visits to many cities in China, I began to conjure up Chinese dragon images and think about the way using them in my painting. Now many kinds of Chinese dragons have appeared in my artworks.
—What do you think of Chinese art and Bulgarian art since you know much about both of them?
Plamen Legkostup: In recent years, China has taken actions to protect its traditional art and the Chinese have shown a deeper respect for their own history and culture. We visited a number of galleries and museums in China and found very often that they were crowded with visitors. The Chinese government also allows for high expenditure on the protection of the traditional art. Bulgaria has been trying to do the same but it has not put in so much as China has.
—You have paid many visits to China. Is there any change in your views about China over the years? It is said you often do internet shopping now. How do you like it?
Plamen Legkostup: Almost every year I come to China a couple of times. There is a big change in China because of its full and healthy development. For instance, there is a great leap in service industry. When I ordered wine in restaurants before, there was no wine glass. However, this seldom happens now. Shopping on chinese online shopping websites is very convenient. I went to shops to buy frames, canvas, and paints before, but now whenever I need these things, I browse some website. Shopping online is easy. The goods are of good quality and they are sold at a reasonable price. Once the online payment is made on the cellphone, the door-to-door delivery is fast.
One of my concerns is the education of young people. Speaking of change, I find some young Chinese have been influenced too much by the west in recent years. In my opinion, they should cherish their own traditional culture and establish their own identity. It is not a good phenomenon that the young people follow blindly the western culture.
—What do the Bulgarian think of China now? How will the "Belt and Road" Initiative influence the relationship between China and Bulgaria?
Plamen Legkostup: Bulgaria is the second country to establish diplomatic relationship with the People's Republic of China. Ten years ago, the Bulgarian knew very little about China and the two countries were not very close. Now we have Confucius Institutes through which the Bulgarian get to know about China and want to seek cooperation between the two countries. A week ago,the Confucius Institute organized a delegation of education to visit China. After they arrived China, the delegates were surprised to fi nd such a developed China.
Bulgaria is one of the countries in the Silk Road Economic Belt. Because of the "Belt and Road" initiative, China and Bulgaria will have more opportunities for win-win cooperation. Many Chinese enterprises can invest in Bulgaria, set up factories there and employ graduates of Chinese major from the Confucius Institutes in Bulgaria. Confucius Institute, so to speak, plays a preliminary and pioneering part in promoting the "Belt and Road" Initiative. Without Confucius Institute doing the initial preparation of cultural exchange there might be more diffi culties in the launch of the "Belt and Road" Initiative.
—What role do you think Confucius Institute plays in the university and the local community?
Plamen Legkostup: Over a decade ago, we did not have much chance to visit China and many people were afraid of going to such a distant and unfamiliar country as China was to them. Nevertheless, I have been telling them that the easiest way to fall in love with China is to visit it. Moreover, I encouraged them to apply for the educational programme launched by the Ministry of Education of China. With the help of the Education Section of the Chinese embassy in Bulgaria, the Centre of Chinese Language and Culture at the UVT has developed very quickly and offered the students opportunities to study Chinese.
Afterwards we heard of Confucius Institutes and wanted to establish in our city the second Confucius Institute in Bulgaria when we knew the fi rst one was set up in Sofi a. The Confucius Institute Headquarters agreed on this idea. In 2012, the Confucius Institute at the UVT was established. We chose the most suitable location in the city centre and put up a very beautiful teaching building. I myself took part in the design of the building and put in a lot of effort and time in the hope of making this Confucius Institute the most beautiful one. I was also aware that there was so much to do after inauguration, of which the most important was to let the community know and have trust in this new institution and to make the students at the Confucius Institute feel as warm and comfortable as they were at home. In 2013, we upgraded Chinese as the fi rst foreign language so now the grade of HSK-III is one of the qualifi cations for university admission, which also enhances the Chinese teaching quality of the UVT.
To my great delight, there are readers in the reading room of the Confucius Institute every day. The Chinese majors come to the Institute to talk and learn from the teachers and volunteers instead of going to the Café whenever they have free time. In the past fi ve years, we set up more than 30 teaching sites and two classrooms in ten cities in Bulgaria, and hosted a number of international conferences, exhibitions and cultural events. Now there are 15 volunteers and two teachers at the Institute. We become very good friends. I would not call them colleagues because I think they are my true friends. Although I am not the Rector now , I am still the Senior Advisor to Confucius Institute Headquarters. I think I w ill devote my whole life to the cause of Confucius Institute.
---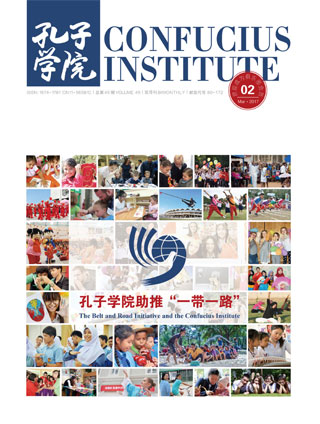 Published in Confucius Institute Magazine
Magazine 49. Volume II. March 2017.
Comments