The number of international students studying in Shanghai continues to climb. By 2015, this number had increased to over 56.000. Studying in China, many young students choose to finish their degrees in Shanghai not only because of the excellent education they receive, but also because they're drawn to Shanghai's urban culture, historical sights and the excitement of city life.
Many elite universities can be found in eastern China. Entering the XXI Century, the number of international students studying in Shanghai continues to climb. By 2015, this number had increased to over 56.000. Universities that enroll the most international students, ranked from highest to lowest, are Fudan University, Shanghai Jiao Tong University, East China Normal University, Tongji University, Donghua University and Shanghai International Studies University. The top five countries from which the largest numbers of international students come are Korea, USA, Japan, France and Germany.
Studying in China, many young students choose to finish their degrees in Shanghai not only because of the excellent education they receive, but also because they're drawn to Shanghai's urban culture, historical sights and the excitement of city life.
Let's explore China universities and the life of these overseas students who attend East China Normal University and Shanghai International Studies University.

My

life at

ECNU

By Thian Suet Mun (Malaysian, Institute of Global Chinese Language Teacher Education, East China Normal University) and Vu Minh Uyen (Vietnamese, Institute of Global Chinese Language Teacher Education, East China Normal University)

No list of the most beautiful university campuses in Shanghai would be complete without East China Normal University.

Located next to Zhongshan North Road in Putuo district, the campus of the university was originally the private garden of a Belarusian nobleman in the 1920's. Afterwards, the Great China University, also known as "Columbia University of the East", was founded here. Many famous scholars, such as Guo Moruo, Tian Han and Xu Zhimo, taught there. In 1951, East China Normal University was created by merging the Great China University and Kwang Hua University.

In summer, you'll find huge wutong trees (commonly known as the Chinese parasol tree) with lush leaves lining campus roads, as if saluting the students and teachers who walk past. When autumn comes, the yellow leaves fall from the trees with stately grace and a hit of sorrow.

The land of history and humanities: History and Humanities Building
I still remember the day when I first entered the campus for registration. I was fascinated by a white building not far from the university gate. That classical white beauty was the History and Humanities Building.
The real name of this building is Qunxian Hall, which means a place where worthy scholars gather. In history, many celebrities have taught here, including Lu Xun, who delivered a speech here. It's the symbol of ECNU and the building on campus with the richest cultural history. "My university was the most beautiful in Shanghai at that time," Chen Danyan recalled, "and I was most impressed by the Histories and Humanities Building. Some students would sit there and study by the moonlight after the lights of the classroom building were switched off. Standing on the open balcony supported by Greek pillars, you could smell both the stinking ammonia from the toilet and the strong sweet scent of the flowering Gardenias at the same time." Chen is an author who graduated from the department of Chinese Language and Literature at ECNU.
Today, students and teachers still have classes in this historical white building. In the lobby, there's a stately statue of Lyu Simian, the first president of ECNU. Walking outside, you'll find a lawn in front of the gate, which is also called the "Lawn of Love". People sit here and talk, and alumni bring their children here on weekends.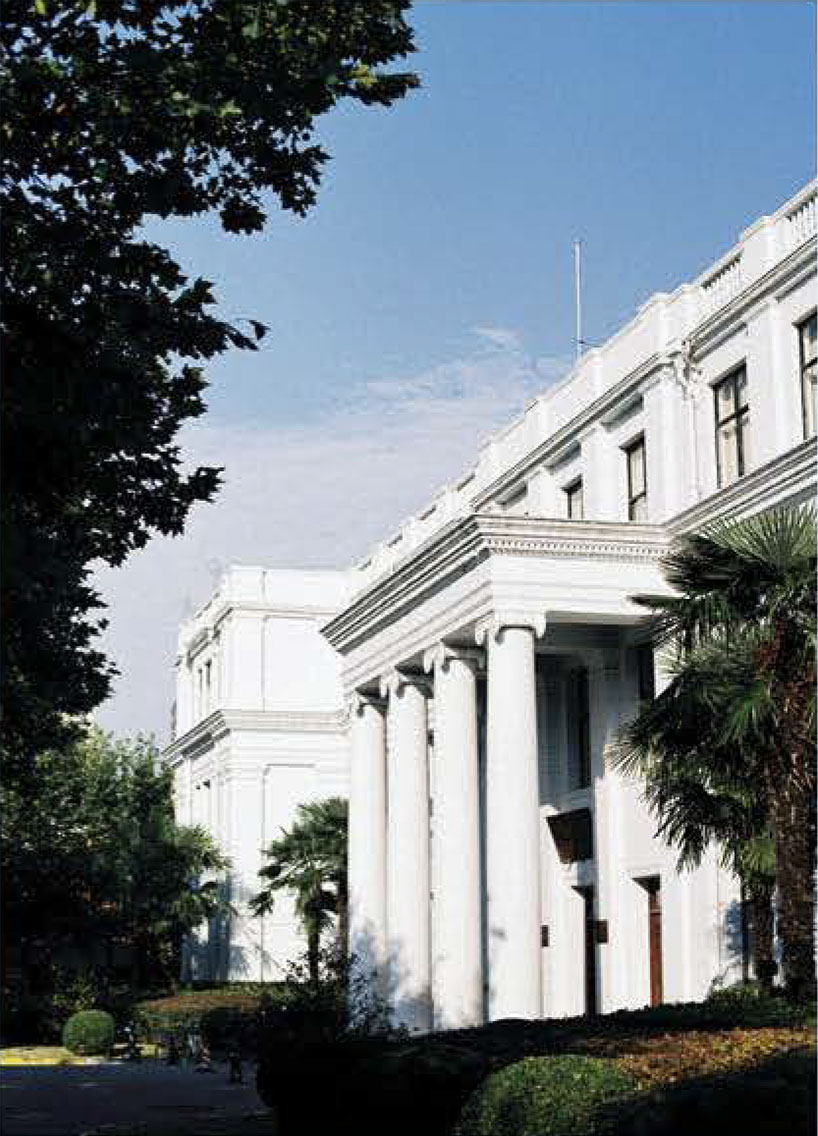 The Rio Rita a beautiful river
Speaking of ECNU, no student would forget the beautiful Rio Rita.
You may not find this river on a map, but it has an important place in every ECNUer's heart. Poet Song Lin once described it like this in a letter to a friend, "If there is really a heaven on the earth, the plants, trees, and pebbles along ENCU's Rio Rita are where you will find it."
There are many stories about the origin of the name Rio Rita, hut most people believe this one: Back in the 1920's, a member of the Belarusian nobility living in exile in Shanghai bought a large piece of land around where the Rio Rita now is as the site of his private estate. He had a beautiful daughter called Rita, who fell in love with a poverty-stricken Chinese scholar. The father was strongly against this romantic relationship between a girl and a hoy with such different social backgrounds. Eventually, the girl jumped into the river on a rainy spring night and drowned herself. Later people named this river after her in memory of her death. Since then the Rio Rita has been known as a river of love.
Today, the Rio Rita still flows quietly. People can sit on the wooden benches by the river, watching birds fly hack to their nests at dusk, listening to their chirps, and lose themselves in the moment.
Summer Rain Island: an isle of art and literature – and the Summer Rain Poets Societ
In the 1980's, ECNU produced a large number of writers, poets and artists. In their heyday, many of them gathered together and started the Summer Rain Poets Society. Besides reading poems in their dorms or in the great hall, Summer Rain Island is the place where they got together the most. The reason they chose this place is quite interesting – the campus is divided into two parts by the Rio Rita, the east side of the river is where all the liberal arts students are, and the west side of the river is where all the science students are. The location of Summer Rain Island is right in the middle, so the liberal arts students and the science students came to this island to talk about life, poetry and their dreams.
Summer Rain Island is at the northern end of the Rio Rita and connected to the banks by two "lovers' bridges". It has lush vegetation, is intricately landscaped with many winding paths. Standing on the island at dusk, you'll get the best view of the Rio Rita and Rainbow (Lihong) Bridge. Everything, including the water of the river, is utterly silent. It's like a quiet, peaceful harbor you never want to leave.
But now all the poets are gone, and cats are what you'll see the most of on Summer Rain Island. Some people also call it Cat Island. Many kindhearted female students regularly feed the cats, who happily live and reproduce on the island, and people often top to play with them. If you're a cat lover, this is a place you have to see.

Mid-River (Hexin) Pavilion: a place of romance
On the Rio Rita there's a bridge called Rainbow Bridge, and by the side of the bridge there's a pavilion called Mid-River (Hexin) Pavilion. Even though it's not very eye-catching and looks a bit shabby, it actually has a story behind it, and contains a very interesting wall.
We don't know why the pavilion was first built, but not long ago there was a florist here. The wooden plaque above the door is inscribed with two Chinese characters chong (虫 ) and er (二 ), which literally mean 'worm' and 'two' respectively. Many of you probably know what they stand for. It's said that during his tour of the south of the Yangtze, Emperor Qianlong visited West Lake in Hangzhou and the Mid-Lake Pavilion there. While he was there, he wrote the two characters as an inscription for the pavilion. As the inside components of the characters feng (风) 'wind; breeze' and yue ( 月 ) 'moon' respectively, chong (虫) and er ( 二) can be interpreted as 'the wind and moon are boundless', or 'romantic associations are boundless', because 'breeze and moon' are a common Chinese metaphor for romance. Afterwards, this allusive metaphor was borrowed by an anonymous person for the little pavilion in the middle of the Rio Rita. When you stand in this pavilion and look out at the river, you'll find the view is perfectly matched with the metaphorical allusion.
Walking down the stairs of the pavilion, if you're attentive enough, you'll find words written on the wooden wall. A close look reveals that it's "I love you" written in more than 80 different languages. We don't know whose work it is, but we can be sure that this wall has brought romance and love to this beautiful campus. Nowadays, people come here looking for the pavilion and this wall, and take pictures to remember their visit.
Walking along the Rio Rita, you'll find a red building – the Physics Building, which means a lot to me, because after I registered at the university, my life as a postgraduate student began here. Before I came, students senior than me used to tell me that the Global Center for Teaching Chinese to Speakers of Other Languages housed in this university is a nirvana for those who want to become teachers of Chinese. Now here I am, and I feel so excited!
ECNU has graduated many famous teachers and successful personages. Beyond learning Chinese, the students here also feel love everywhere at this university. I hope it retains its beauty as the years go by. Many years from now, I will surely bring my children to this place and let them explore its beauty as I did. There is love at ECNU!

Chatting makes learning Chinese easier
By Snizhana Bugaieva (Ukranian, Shanghai International Studies University, MA in Teaching Chinese to Speakers of Other Languages, matriculated in 2015)
I really like the Hongkou campus of Shanghai International Studies University, not only because it has good views, but also because it has an excellent location. Although it is not big, if offers everything a student needs: a cafeteria, a library, convenience stores, all kinds of cafes and a stadium. Students from other universities may think we lead a boring life down here on the Hongkou campus, but it's actually the complete opposite. In our eyes, the SISU Hongkou campus is like home.
Lu Xun Park is right across from the Hongkou campus. You can jog, play badminton, practice Tai Chi, play the diabolo, or sing and dance with ladies of their mothers' age there. To me, doing sports or enjoying the view in Lu Xun Park is a good way to de-stress.
Teachers often give us interesting assignments, the most memorable being to choose a site to study its history and changes. I picked the Lu Xun Park. Honestly, I never really thought about why this park is named after Lu Xun. But when I heard that they have Lu Xun's tomb and the Lu Xun Museum there, I decided to find out more about this remarkable Chinese man of letters. After the visit, I now know Lu Xun is a very outstanding man, and I have a lot of respect for him.
Lu Xun Park is a city park that is a century old. In 1935, before Jiangwan Stadium has been built, Lu Xun Park was Shanghai's main sports venue. So why was this park named after Lu Xun? In October 1927, Lu Xun came to Shanghai from Guangzhou, and stayed in Shanghai for nine years, coming to Hongkou Park many times. In 1956, Lu Xun's tomb and the Lu Xun Museum were built inside the park, and Lu Xun's remains were moved from Shanghai's International Cemetery to the park. And because they have his tomb and museum here, when people come to visit the museum they always say "Let's go to Lu Xun Park", which is why they unofficially call it Lu Xun Park.
Every weekend, people who live nearby go to the park for all kinds of activities. When I walk there, I always find students dancing with ladies of their mothers' age, playing badminton or practicing Tai Chi with the men of their fathers' age. And every time I do these things, my Chinese gets better.
I think you don't have to cram all the time to learn Chinese. Instead, you should talk to the Chinese, and learn more about the history of Shanghai and the stories behind those tourist sites. In this way you can definitely learn more about interesting Chinese culture.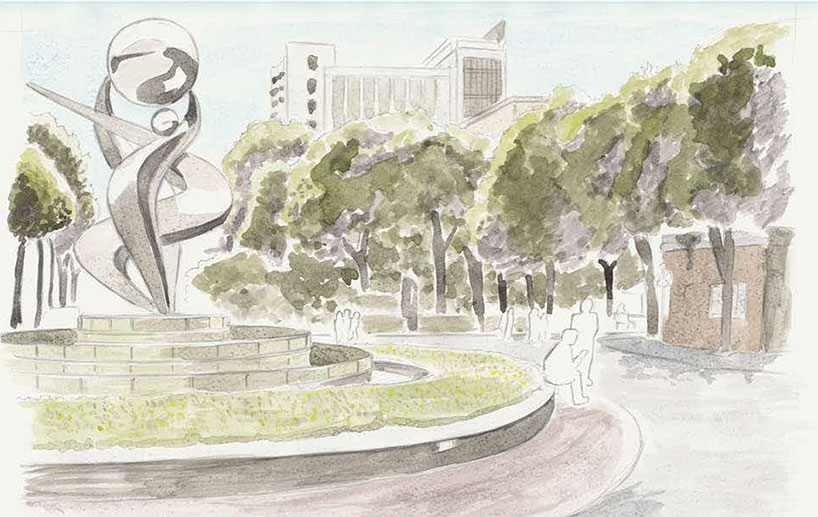 Dating in Chinese
By Darya Kalacheva (Russian, Shanghai International Studies University, BA in Chinese Language
When I first came to Shanghai, I didn't speak a word of Chinese, too timid to talk to people. Then a man walked into my life and became my good friend.
It happened a year ago. On the campus of SISU I ran into a boy student about the same height as me, with dark hair, and always a smile on this face. He looked really outgoing and adorable. We just talked for a bit and said goodbye without exchanging contacts. But one day, we suddenly met each other on WeChat again. The world is big, but we somehow still found each other, and he asked how I was doing.
I was sick that day and alone in my dorm. He was concerned and asked if I had any medicine, I said I already took all the medicine I brought from Russia, and didn't know anything about Chinese medicine and didn't want to risk taking the wrong one. He said he had some medicine at his place, and because we live close to each other, he could come by and check on me. From that day, we became good friends.
Now we hang out together all the time. We go to parks, see movies, do our homework, eat together at cafes, and sometimes we cook together. He's from Shanghai, and he taught me how to make Shanghai food, which I found exotic but delicious at the same time. I remember one time we went to the grocery together, and I saw some black eggs I'd never seen before. He told me they were calledpidan 'preserved eggs'. In Russia I'd never seen something that looks or tastes so odd. But now I think pidan are super tasty!
He also did something that's really special and unforgettable for me. My first time getting a drip, he was there with me. I had a bad cold that day and I felt horrible, so I decided to go see a doctor. At the same time, I was a bit scared because I've never been to a hospital in China. So I told him, and he agreed to go with me. I was scared of getting an injection, and I've never done that before in my whole life. When the doctor told me I had to get a drip, I was ready to cry. Getting a drip took so long that day, and he was there cheering me up the whole time. That's what I never forget. We come from different cities, we have different cultural backgrounds, yet we're best friends.
Of course sometimes he teases me or makes fun of me, which makes me want to fight with him, but I'm really glad I met him. Maybe it's destiny.
More about Chinese Universities:
---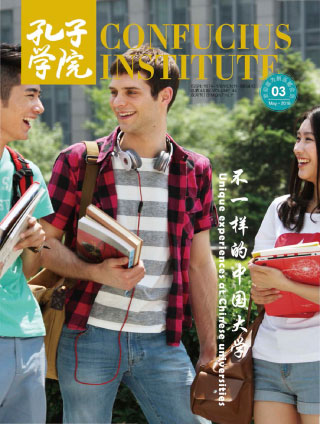 Published in Confucius Institute Magazine
Magazine 44. Volume 3. May 2016.
Comments