Qiao Guirong, teaching in U.K: "My experience in the U.K. helped me realize the depth and breadth of traditional Chinese culture as well as the value of my work. I realized that art and beauty are the common language of mankind."
Currently there are over 4,000 Chinese language teachers and volunteers teaching Chinese in Confucius Institutes, primary and secondary schools and universities throughout the world. While spreading Chinese language and culture, these cultural envoys personally experienced exchanges and interactions with different teaching practices and other cultures. The column of Teachers' Voices is a channel where Chinese language teachers and volunteers can share their teaching experience with each other. There will also be a collection of stories on their unique experiences in foreign lands these cultural envoys can share with our readers.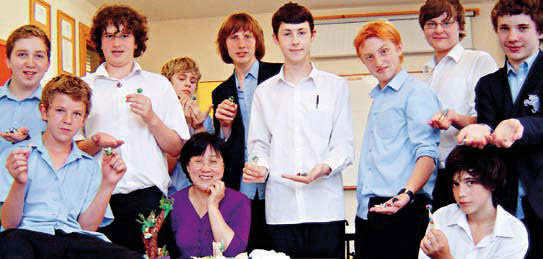 Qiao Guirong

, short-term teacher of the Confucius Institute at the University of Manchester, U.K.

Simply a little flower in the garden of Chinese arts and crafts, dough figurine making has a long history. The simple ingredients– flour, pigments, and water turn into a vivid craft of various colours. Having worked on dough figurines for years, I have a deep passion for them. Recently I was fortunate to become involved in the activities held by the Confucius Institute of Manchester University to promote Chinese culture. I taught British students how to make dough figurines. My experience in the U.K. helped me realize the depth and breadth of traditional Chinese culture as well as the value of my work. I realized that art and beauty are the common language of mankind.

The first activity I participated in was a craft demonstration for British students. It lasted two hours and hosted more than 200 students. At first I showed them two works I had made beforehand. One was a display of The Old Man & the Fairies. The other was Snow White and the Seven Dwarfs, which, I assumed, might appeal to British students. The two works quickly aroused their interest and enthusiasm.

Then I started making animal characters from Winnie the Pooh, the A.A. Milne children's book. Hardly had the lovely figurines made their appearance when the audience exclaimed in admiration. On the spot, I also showed the students the skill of making figurines. It amazed them how the dough, usually used for bread, turned into the eyebrows, eyes, noses, and mouths. They could not help uttering, "Fabulous! Incredible!" In the course of the demonstration, both students and teachers were very excited. Some were busy taking photos. Some kept asking:"Where did you learn the skill?" How long did it take? Can we learn?" Some even wondered if I could sell the figurines to them. When I gave a figurine to a boy whose birthday was just around the corner, he was so delighted to have this surprise gift that he clasped his hands in front of himself, saying "Thanks!" repeatedly. He was the envy of everyone a round! I wa s proud to see they were fascinated by Chinese culture. After all, the figurines, small as they were, had showcased the charm of Chinese folk art.

Likewise, teaching figurine making to another group of young people was impressive to me. The school we visited was a special one. The students there found it hard to concentrate and had trouble studying. To my surprise and delight, the students were so absorbed in my demonstration that no one left their seat for a single moment. They were very glad that I moulded a Chinese kid for them. Then I taught them to make the arms and pearls. They threaded the pearls into a string and put it around the kid's neck. Judging by their concentration, who could detect their difference from normal students? So high were their spirits that the pupils, intoxicated in making one figurine after another, were reluctant to stop even when the class ended. I was proud that the local teacher was surprised by the students' exceptionally undivided attention.

While teaching dough figurine making at the Confucius Institute of Manchester University, I developed a sense, stronger than anytime before, that I am Chinese, and an understanding, deeper than any time before, that traditional Chinese art is enchanting. I'm proud of my skill and proud to have the chance to demonstrate it to the British people.
---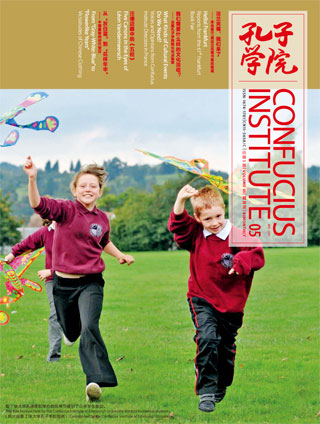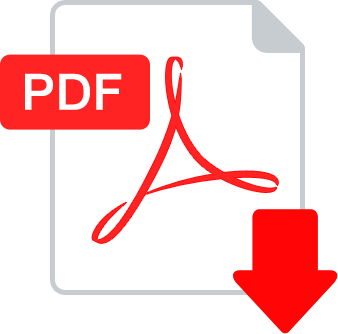 Published in Confucius Institute Magazine
Number 05. Volume V. November 2009.
View/Download the print issue in PDF