Yanis was willing to forsake the comfort of living in the city in order to learn martial arts from a master at Shaolin Temple.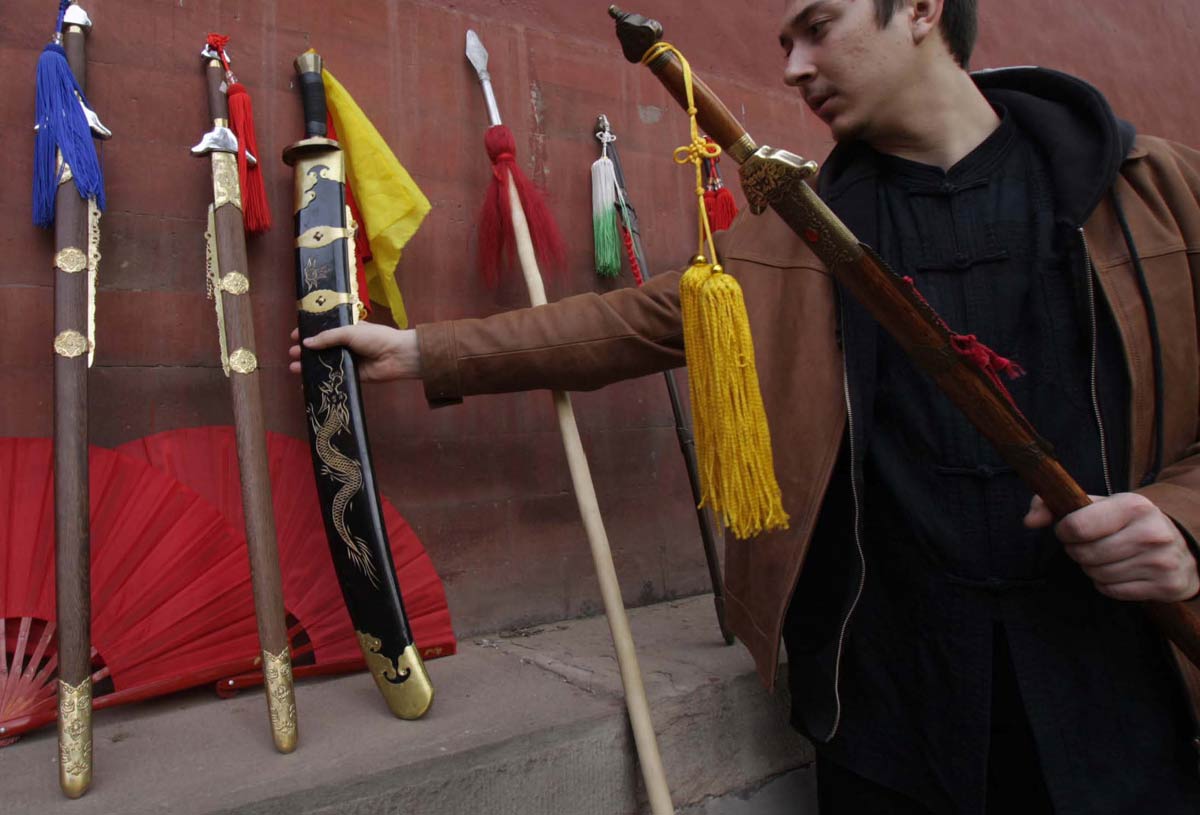 He  comes from Kazakhstan, and is a sophomore in the Department of Chinese as a Foreign Language at Beijing Foreign Studies University. With a strong constitution typical of the people of Kazakhstan, he harbors a singular fascination with Chinese martial arts. He was willing to forsake the comfort of living in the city as an international student in order to learn martial arts from a master at Shaolin Temple, where he subsisted on coarse foods and got up and started practicing every day upon hearing the crow of the rooster. He is Yanis, a foreign lad who loves Chinese martial arts.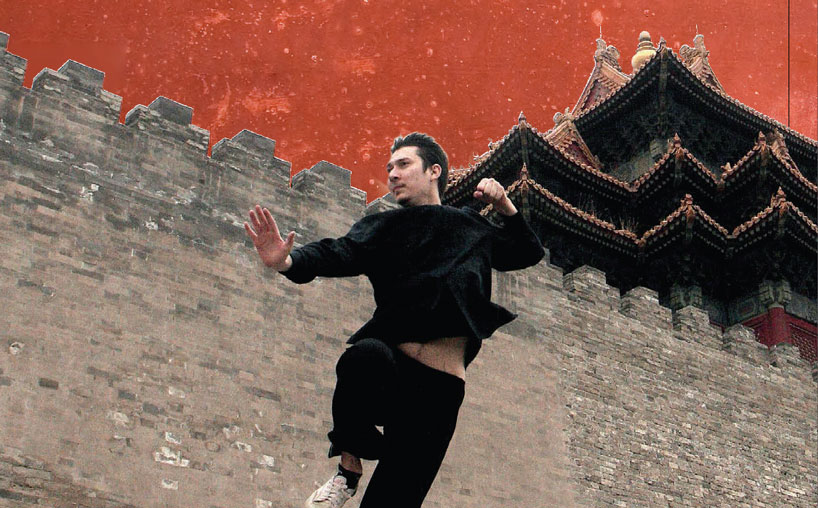 In September 2006, with yearnings for oriental culture and Chinese kungfu, Yanis came to Shaolin Temple to learn his long-admired Chinese martial arts. He says that learning martial arts not only serves to strengthen the body but also broadens one's mind, because it helps one better understand the meanings of "courtesy", "justice", "benevolence" and "love" in Chinese culture.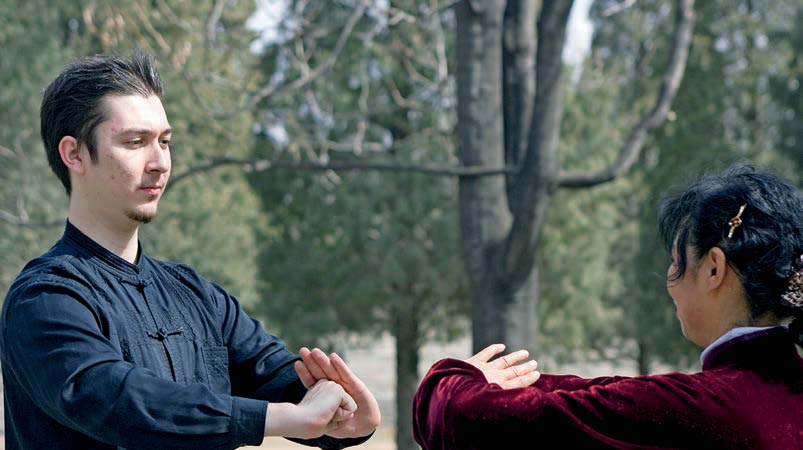 "Before learning martial arts I didn't know who 'I' was; during the three years the master taught me many things about living a proper life. I came to despise violent behavior such as street fights, and gradually developed the ability to find peace whenever something tough came up." The 2.02-meter-tall Yanis said to the reporter, smiling like a child, "When I first started learning martial arts, height and strength were all that I had. I couldn't use my strength in the right places at the right moments. I was all muddle-headed. So, the master gave me an especial name: 'Yang Yang', meaning that I was like a block-headed ram which could only push and gore with his head using brute force."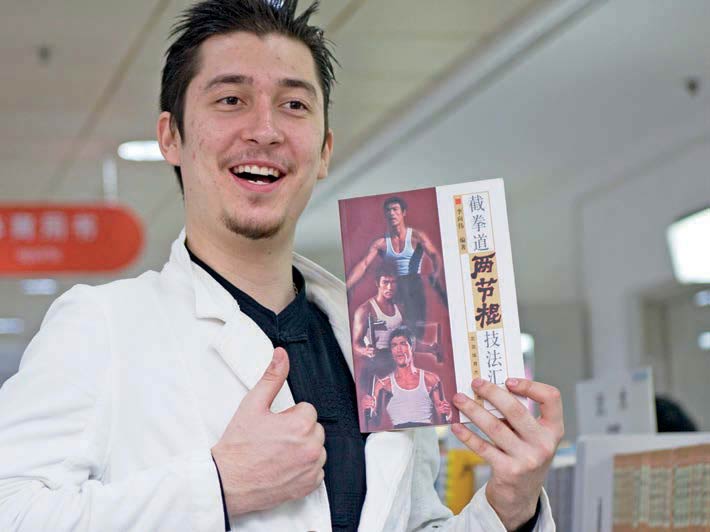 While learning martial arts at Shaolin Temple, Yanis faithfully followed the rigid rules of the temple: every day he got up and started running at 6:30 a.m. and learned and practiced martial arts in the morning and in the afternoon. "There was no air conditioning or drinking fountain there, but I was very happy. I not only learned skills but also became fond of Chinese food, especially stir-fried eggs and tomatoes."
Having made lots of friends and become used to life in China, Yanis enjoys every minute of his time here.
Like many young people, Yanis loves traveling. When touring Tian'anmen, he asks a friend to take a photo of him in a martial arts pose.
Yanis tells his friends Kiril and Li Xiaoyu about his interesting experiences learning martial arts at Shaolin Temple.
Sitting in his international student dorm room in Beijing Foreign Studies University, Yanis is deeply nostalgic about his days in Shaolin Temple. Very pleased with the changes that have occurred in him since he came to China to learn martial arts, his parents think that his pursuit is based on good judgment and encourage him to stick to it. While studying in Beijing, he has made many friends with peers such as Li Xiaoyu, a Chinese student, and a Russian student who shares a similar fascination with Chinese martial arts. They often go out together, sampling Chinese snacks, browsing bookstores, and enjoying the long history of Chinese civilization at famous historic sites. For Yanis, the most enjoyable activity is going to Beijing's parks to exchange ideas and skills with other martial arts lovers. Yanis is still far away from true mastery of Chinese kungfu, but he says, "Bruce Lee, Jackie Chan, and Jay Chou are all my role models, and I will always be learning from them."
More on ConfuciusMag:
---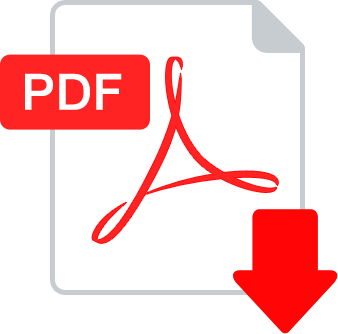 Published in Confucius Institute Magazine
Number 08. Volume III. May 2010.
View/Download the print issue in PDF
Comments