Zheng Xiaoying, (1929, Yongding, Fujian), was he first female symphony conductor in China. 
She

was

once

the

chief

conductor

of 

China National Opera House an awarded the prize "Best Conductor in China". Her conducting style is considered enthusiastic and bold.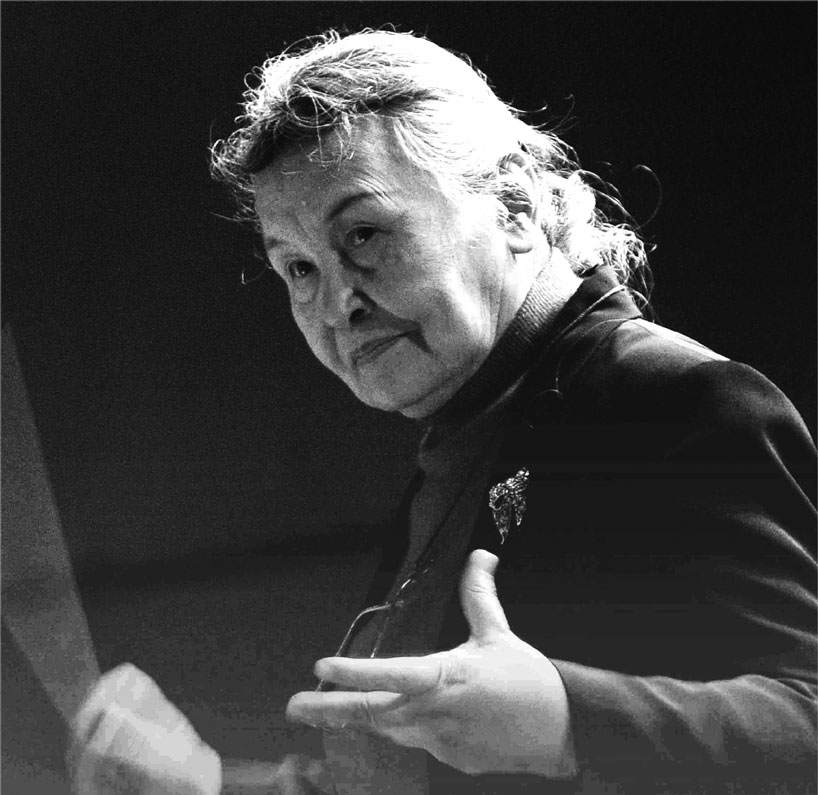 Confucius Institute Reporter, Cheng Ye
本刊记者 程也
Some photos provided by Ms. Zheng Xiaoying
部分照片由郑小瑛女士提供
Profile
In 1952, Zheng Xiaoying studied composition at the China Central Conservatory of Music. From 1960 to 1963 , Zheng studied opera conducting at the Moscow Conservatory. When she returned to China, she once taught in the Department of Conducting at the Central Conservatory of Music before becoming the principle conductor of China National Opera House. Her conducting style is considered enthusiastic and bold. Zheng is the first female symphony conductor in China, the musical director and co-founder of the Women's Philharmonic Chamber, and was the executive director of Chinese Musicians Association. She has been the artistic director of Xiamen Philharmonic Orchestra since 1998.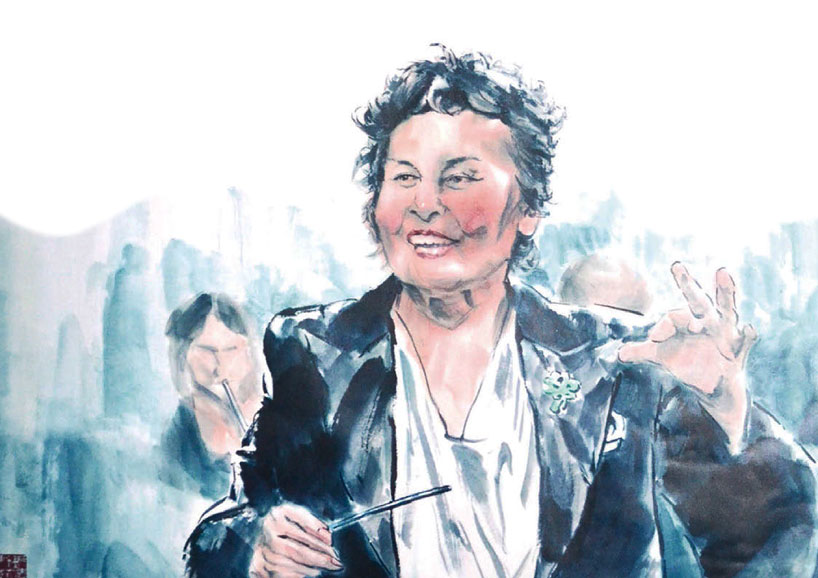 Editor's note
Inside the rehearsal room of Xiamen Philharmonic Orchestra, a gray haired conductor got up from the back seat, walked around the orchestra to a young conductor and critiqued her performance as she demonstrated what she meant. Her hands would sometimes wave excitedly and sometimes gently. These hands have conducted beautiful and harmonious music, received bouquets at the Berlin Philharmonic Hall, encouraged lots of young conductors, relayed the Olympic torch during the 2008 Beijing Olympic Games, and also updated blogs and replied to e-mails in the middle of the nights. This pair of hands, full of vitality, belongs to Zheng Xiaoying, an 85 year-old famous female conductor from China.
In this issue, we will be discussing Chinese symphonic music with this busy old lady.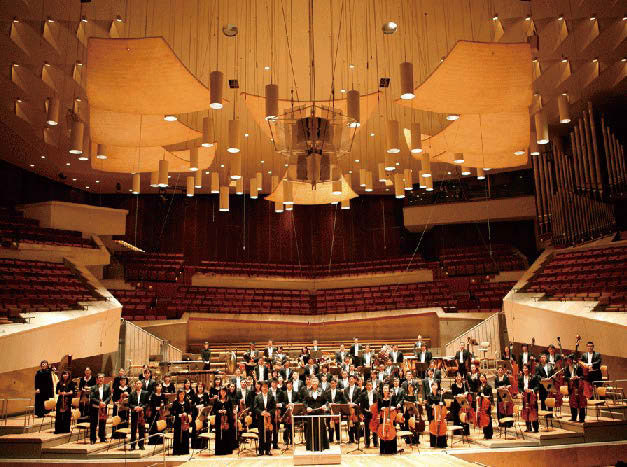 Reporter: A conductor is the soul of an orchestra. Do you think you are under greater pressure as a female conductor?
Zheng Xiaoying: I think the requirements for a conductor are the same for men and women; they all need to be all- rounders. But I can't deny that in reality, a female conductor does require a stronger mind. A woman has to make more sacrifices and overcome more obstacles than men if she wants to be a conductor. I expect a lot from myself as well as from my female students. First of all, you have to see if you are tough enough. If you cannot handle a full orchestra or choir of a hundred and start snivelling when you feel aggrieved, then you should not be a conductor.
Reporter: With regards to arts, you have always strived for perfection. What's your motivation?
Zheng Xiaoying: Music is beautiful. It is what I love. There is limitless potential for creativity in music and there is no end to sharing beautiful music with people. Musicians have to strive for continuous improvements. Conductors should carry a greater sense of responsibility to the public. I often tell my students that they have no right to get sick because a conductor cannot simply go on leave. A scheduled rehearsal or performance of a hundred people is always fixed at a very early date. Now that everyone has arrived, how can you be absent just because of a light headache? ese things are all probably my motivations.
Reporter: Although we say music is without boundaries, but the characteristics of music is dened geographically. As a foreign genre of music, do you nd it dicult to graft Western symphonic music into Chinese culture?
Zheng Xiaoying: Symphonic music is an imported genre and was introduced into China quite late in time. But we have always endeavoured to "adapt foreign things to Chinese needs". In the 1940s, at the beginning of the Sino-Japanese War, overseas Chinese students composed works expressing their patriotic feelings during a time of national crisis. We have also had many good pieces in these years such as the Butterfly Lovers, the Yellow River, the Spring Festival Overture and the Chinese Sights and Sounds. However, most of these are concertos or orchestral music, rarely have I seen a symphonic work like The Echoes of Tulou, which can express such profound meanings by using 20th century compositional techniques, while blending Western symphonic expressions with Chinese folk music.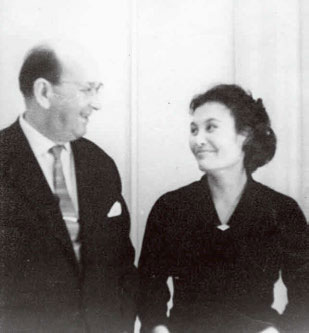 Reporter: You have a high regard for The Echoes of Tulou and have spared no effort in conducting a world tour with this piece. Can you share your experience and the reactions of your audience with us?
Zheng Xiaoying: I love this symphony. Not only does it show compositional technique, it also presented the solidarity of the hard-working Hakka people, whose integral culture also included aspects of broad mindedness. However, this is not just about the Hakka, but also about the tradition of Chinese people. In the past ten years, we have toured 11 countries, performing The Echoes of Tulou in as many as 90 cities. As a female conductor of Hakka descent, I'm very glad to have the opportunity to take my orchestra and introduce this symphony to all parts of the world. There are many stories from every location that we performed. The most unforgettable of all is our experience in Berlin. Germany is the cradle of symphony and the home of Beethoven and Mozart. The Berlin audience is very knowledgeable , almost to the point of being exacting. Our Berlin tour is just like "showing a grandma how to suck eggs " . You can well imagine the pressure we were under. But when our performance in Berlin Philharmonic Hall ended, we were rewarded with unrelenting applause and the curtain calls lasted for 11 minutes! At that time our young musicians were extremely excited and were all rejoicing with glee. I was extremely happy too. For a philharmonic orchestra to be appreciated in Berlin is definitely not an easy task.
Reporter: Was your audience abroad mainly locals or overseas Chinese?
Zheng Xiaoying: The audience consisted mainly of locals. I think the main purpose of taking a Chinese symphony orchestra abroad is not to perform to overseas Chinese, but to promote Chinese symphonic works to mainstream foreign audience. The West are familiar with symphonies, and we want to show them what we have achieved using the kind of music that they are familiar with. I want the West, home of symphony, to know what kind of symphonic music China has created and the contribution China has made to world culture in this respect. As the local audience is familiar with symphonic music, they can evaluate our performance and then be able to assess the standard of China's musical and cultural prowess. By watching our performance, an orchestra from Xiamen, a medium- sized city in China, the audience can infer about China's current economic achievements and living standards. These kinds of intuitive feelings are much more persuasive than a talk or lecture. In The Echoes of Tulou, the composer has also incorporated local choirs in to the final movement of the "Song of Hakka". We will always invite local choirs to join our performances in the last movement, allowing for the possibilities of interactions. Whenever I hear the local singing along with us enthusiastically in Hakka, I am always deeply moved.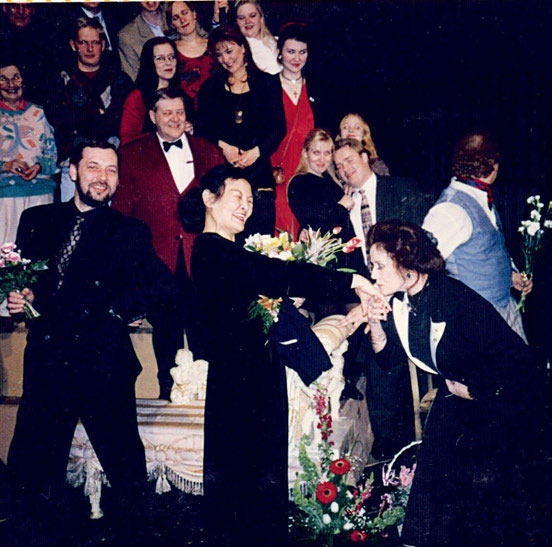 Reporter: We share the same feelings. The Confucius Institute Headquarters started "I SINGBEIJING—Hanyu Academy of Vocal Arts" in 2011. It is a Chinese educational program for young foreign vocalists. It tries to integrate Chinese language learning with vocal arts training through singing Chinese opera in Mandarin. Many concerts have been held so far, and every time a Western vocalist assumes the Chinese character Xi'er and sings "The north wind is blowing… ", we are always deeply moved.
Zheng Xiaoying: This is a good program. Every time we collaborate with foreign choirs, their members do not know any Chinese. I would have to transliterate the lyrics using Pinyin, make a recording and send them to the choir conductor. Then I will have to phone the conductor from overseas to correct their articulation word by word. I remember that we had a choir of 240 people in the San Francisco concert, the largest and most exciting singing tour ever! The choir was made up of nine different choir groups, with local American choirs and choirs from other countries and regions. That was a really meaningful experience as the singing itself was a kind of communication and integration, and what we sang was an integral part of The Echoes of Tulou.
Reporter: You have many friends inside and outside the music circle from all over the world. Even in the West, symphonies are a form of highly cultured art. So in China, wouldn't the sophistication be even more extreme? What is your opinion on this issue?
Zheng Xiaoying: It is very difficult to promote highly cultured performing arts in a commercial world, but this is precisely why we need to persist. Currently, there are very few people in China who support symphonic music. But just as the Hakka folk song goes: "Where there is a high mountain, there will be people who will create a road through it; where there is a deep river, there will be people who will build a bridge across it." Someone has to lead the way. We may only have a few people now, but I believe there will be more in the future. Popular culture and classical arts are genres from two different realms of music. Folksongs and dances are for the masses, where as symphonies and operas belong to more high-ended art forms. Entertainment is not equivalent to culture. Each has its own audience and is performed at different venues and on different occasions. If we cater to the vulgar taste of the public, we may make a huge profit but that is not what we go for. We want to insist on the cultural value of symphonic music. While we insist on high quality performances, we adopt a lowticket price policy. We often give free performances in schools and provide one classical symphony concert every weekend for the people in Xiamen. All these are done because we not only remain committed to "sophisticated highended" art, but we also wish to attract an increasing number of music lovers. In recent years in Xiamen we've already witnessed a remarkable progress in people's appreciation for and understanding of classical music.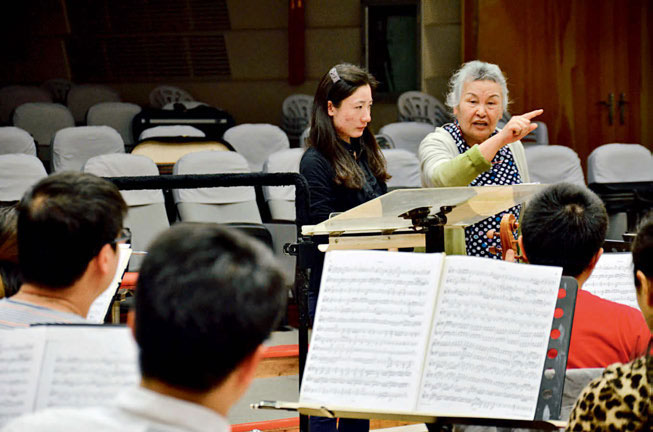 Reporter: What do you think is the function of music?
Zheng Xiaoying: Music is an art form that can inspire people's imaginations because it only works through the sense of hearing. It awakes our feelings, triggers our associative thinking and allows for more subjective appreciation. I am against playing videos on LED screens during our performance. I am more in favour of displaying the acoustic appeal of music itself. Symphonic music is one of the finest examples of humanity's musical heritage. Our purpose is not to entertain, but to subtly influence and educate. Albert Einstein had also once said that: "Imagination is more important than knowledge."
Reporter: You have stressed the importance of musical literacy on many different occasions. Is this passion a result of your background in music?
Zheng Xiaoying: I love music, but there's more to it. The Book of Rites says: "A person who understands music, will also understand reason and order." And it also says: "If you know music, then you come close to knowing rites."Our ancestors believed that music could cultivate a person's good conduct and character, and even said:" To change the ethos and customs of a society, nothing works better than music." We can find many examples in classical texts that indicate our ancestors attached great importance to the social functions of music. I read an article about The Massachusetts Institute of Technology, a famous research university in the United States. In order to graduate, students are required to complete 360 credits, one-fifth of which must come from compulsory music courses. Someone asked the president: "You are technical university. Why do you require so many credits from arts courses? And so many music credits?" The president replied: "I hope our graduates will not only be engineers, but have the potential to become the president of the United States." In other words, a comprehensive education in the arts can form the basis of a remarkable life and career. Music is beautiful. It has the ability to express emotions and communicate. It influences people regardless of location and time. Nowadays, musical literacy is an essential component in the perfection of one's character.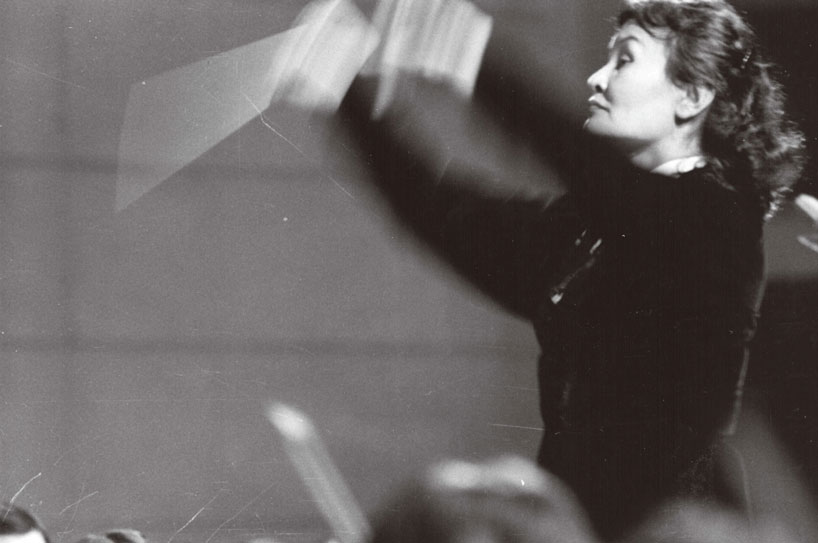 SYMPHONIC POEM THE ECHOES OF TULOU

Scored by Liu Yuan, this symphonic work paints a picture of the Hakka-style earthen buildings called Tulou, a UNESCO World Heritage Site in Fujian province, and portrays the struggles in the development history of the Hakka people. It consists of five movements : Work Songs, Ships on the Sea, Night Chat in a Tulou, Opening up a New World with a Huge Axe and The Song of Hakka. This magnificent symphonic poem, which combines western compositional techniques with Hak ka folk music, was awarded the Golden Bell Award, the only gold prize in the First Chinese Instrumental Music Competition. The Echoes represents the peak of contemporary Chinese symphonic music and is honoured as the Epic of Hakka Music.
---
Published in Confucius Institute Magazine.
Number 29. Volume VI. December 2013.
Comments